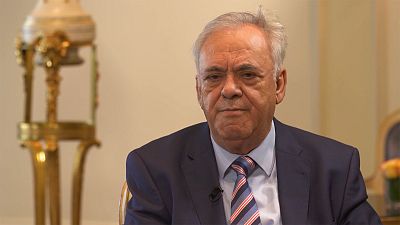 Greece's Deputy Prime Minister Yannis Dragasakis has a plan for when the country exits it's Eurozone bailout lifeline! His booklet on Greece's strategy for growth he says will help the country sail, like it's strong shipping fleet out of troubled waters and be the compass for where the country wants to go next.
Maithreyi Seetharaman: Deputy Prime Minister, what did you bring to show us where Greece is headed now after years of pain?
Yannis Dragasakis: I brought a small ship for the new journey that we must make as a country now and I also brought something that for us is a compass. It is our new growth strategy. In reality, Greece for the first time has a national growth strategy, which describes aims and means – what we want to do and how we will do it, and where we want to go." We are therefore ready as a country to stand on our own feet, to take advantage of the degrees of freedom that we will now have, with responsibility and for the good of our people.