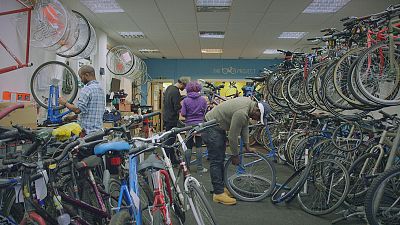 Finding new solutions to the needs of society is often seen as a challenge for governments and NGOs, but entrepreneurs can also play their part. The European Social Innovation Competition (ESIC) seeks to tap into the talent and energy of business innovators to solve a range of social issues. UK-based Nesta is a global innovation foundation and a partner in ESIC. The director of its Centre for Challenge Prizes, Tris Dyson, told Business Planet it's important to look beyond government circles for inspiration:
"These are really important social issues that affect all of us all over in our communities. And we can't just leave this up to governments to solve these problems, it's people with great ideas, for new products and services, that can really help to make a difference."
In London, Business Planet went to visit an example of the kind of service Dyson highlights; the Bike Project, which recovers old or abandoned bicycles, restores them and gives them to refugees.
"…I told them about Aleppo, about the war and also about the falafel because falafel in Syria is really good. I already made a lot of friends here but sometimes I miss my friends in Syria." – UNHCR Dream Diaries https://t.co/lHE4iMnwgA

— The Bike Project (@The_BikeProject) 12 janvier 2018
European Social Innovation Competition
The European Social Innovation Competition, organised by the European Commission across all European countries, is looking for new solutions to the problems affecting society.
Every year, a key issue is selected as the theme of the competition and three projects offering the best solutions win €50,000 prizes.
Apart from the financial prize, projects also benefit from business support, mentoring, networking and PR opportunities.
Each year the competition looks back at the participants from the previous edition and awards the "Impact Prize" – a prize for a project that had the most significant, measurable impact on society since taking part in the competition.
Useful links
Ussumane is a refugee from Guinea Bissau.
In 2013, he was one of the first beneficiaries of the Bike Project After receiving his own bike, Ussumane decided to get involved, he was trained and became a volunteer mechanic for the project.
"For a refugee, having a bike here is very, very, very important," he says, "because, who else will give you the money every day to travel? Public transport is very expensive. And London is a big capital, you can't get around on foot. "
At the end of the day of Business Planet's visit, the Bike Project team began their weekly distribution of bikes, complete with helmets and other safety equipment. The project's founder, Jem Stein, says their service goes far beyond handing out free bikes:
"We have refurnished and donated over 3,000 bikes to refugees, we have also set up a women's project; we teach refugee women how to cycle, from scratch. And we sell better quality bikes that we get through a website," he says.
So far the project has created 10 jobs. It has been so successful efforts are now underway to run it in other cities in England. The initiative has won several awards, including the Impact Award at the latest edition of the European Social Innovation Competition, organised by the European Commission.
The contest is an important springboard for social innovators, says Tris Dyson: "We are looking for people with great ideas from anywhere in Europe, we are going to pick the 30 best people, best ideas, support them, and there are going to be three prizes of 50,000 euros.
"The 2018 edition of the competition opens in the spring in Paris this year. We're looking for innovators across Europe to keep an eye on social media in order to know how to apply."
The key message is that entrepreneurs can put their drive, energy and creativity to use in ways that benefits society as a whole.