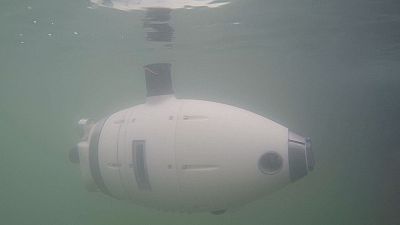 An international team of scientists has launched an unprecedented exploration project in the waterways beneath Venice with swarms of autonomous underwater robots.
The EU-funded project has designed three different bio-inspired robot species: an aPad robot floating on the water surface, an aFish swimming in shallow waters and an aMussel robot covering the seabed.
First of our new autonomous aFish robots touching the waters of #Venice for the first time. More pictures to come. subCULTron</a> <a href="https://twitter.com/artlifegraz?ref_src=twsrc%5Etfw">artlifegrazpic.twitter.com/O3agRsrYea

— supergoof (@thomasschmickl) 22 septembre 2017
Their role is to analyse and help protect the fragile ecosystem of the Venetian lagoon: the aMussel robots collect and store data, the aFish transports this data and the aPad brings the information to the surface.
Robust and flexible, the robots are designed to talk and listen to each other and to develop as a "self-organizing underwater swarm", using bio-inspired algorithms influenced by nature.
Außerirdische? Diese Unterwasserroboter sollen Lagune um #Venedig erforschen. Wissenschaftsprojekt mit Forschern aus 6 Ländern subCULTron</a> <a href="https://t.co/h22S5KiNVQ">pic.twitter.com/h22S5KiNVQ</a></p>&mdash; JCKitzler (JCKitzler) 15 septembre 2017
Alexandre Campo, computer scientist at the Université Libre de Bruxelles, explains: "In lab environments, we study the behaviour of animals, especially social animals. We observe how the animal kingdom is organised. It's not necessarily an organisation based on hierarchy. There are animals that communicate among themselves and share information. This is what we call "self-organisation". So we try to understand this collective behaviour and to reproduce it by making models based on mathematical equations."
One of the main challenges is to develop a communication system for the robots, as neither Wi-Fi nor GPS work underwater. The scientists have turned to sonar technologies, and have gone one step further.
"We have developped our own technology: for example, we've equipped the mussel-robot with a special 'sense', similar to that developped by certain fish in Africa and South America," explains Subcultron project coordinator Thomas Schmickl, biologist at the University of Graz. "It is the so-called 'electric sense', which enables them to see in troubled waters and recognize their environment. So our robots build up an electric field which they can use to communicate among themselves in the troubled waters of Venice, to sense objects around them and react to them."
The robots can be programmed for long autonomous outings, ranging from a few hours to several months. This means the scientists had to come up with innovative solutions to ensure the devices' energy harvesting capacities.
Cesare Stefanini is a mechatronics engineer at the BioRobotics Institute of Sant'Anna School of Advanced Studies. "When they emerge, they can approach a boat or an energy station where they can charge without cables. In that way, we are able to charge the robots without any need to open lids or mechanisms that could cause rusting or water leakage," he says.
The robots are equipped with sensors designed to monitor flora and fauna, and the impact of industry and tourism on Venice's complex and fragile underwater world.
"Our robot can, for instance, settle on the seabed. It self-activates when it senses a difference in water pressure triggered by the passage of a boat," explains electrical engineer Pierpaolo Campostrini, managing director of Corila, a consortium that coordinates research activities into the Venice lagoon. "The robot is then able to accurately measure the height of the wave caused by the boat. This can be very useful for us to understand the effect that the passage of boats has on underwater ecosystems. And it can help us better manage the situation, by establishing speed or traffic limits for example."
A total of 120 devices will eventually make up the Venice experiment, the world's largest autonomous underwater robot swarm to date, with scientists hoping to develop far-reaching purposes for such robots in the future.