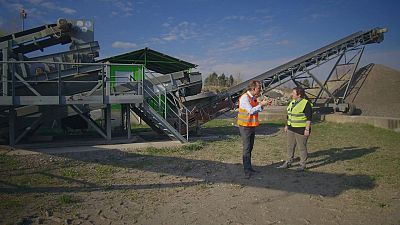 Serge:
"Hello and welcome to Business Planet, here in Maribor, Slovenia.
"Two tonnes of waste per person, this is what is generated each year in the European construction sector.
"Alenka, thanks for welcoming us, you have led the European project REBIRTH, a vast public awareness campaign aimed at re-using waste."
Circular economy in construction
Construction works generate over two tonnes of construction and demolition waste for each European citizen every year. And this amount is increasing.
A new EU protocol on construction and demolition waste management introduces guidelines for the industry on how to recycle and re-use such waste and turn it into resources again.
In Slovenia, a project called

REBIRTH

aims to increase and improve the recycling of industrial and construction and demolition waste for re-use as new regenerated construction material.

REBIRTH

is one of more than 4,300 green technology, nature conservation and climate projects funded by the EU's

LIFE

programme to date.
2017 marks the 25th anniversary of the

LIFE

programme and a new opportunity to apply for funding – open from the end of April to September 2017.
Useful links
Alenka:
"Yes, indeed. We are aware that in construction and civil engineering we can use a large proportion of recycled wastes. That is even more important from the point of view that, up to the year 2020, we have to achieve a 70% rate of recycling of construction and demolition waste."
Serge:
"Have a look to better understand what was done here, as well as the results…"
Southeast of Maribor, we are at a huge waste site.
Proof that this region is now a model for a circular economy, tonnes of cement and steel here will be fully recycled.
Mitja Strajnar, site engineer:
"The concrete will be reused for construction of the base layer of tarmac, while iron rebar is processed and is used as a new product."
What waste can be recycled? And how important is it to recycle as close to the site as possible, and at what cost?
As part of the REBIRTH project, hundreds of Slovenian entrepreneurs participated in conferences and demos that enabled them to answer such questions and begin to acquire new practices.
Mirko Sprinzer, a consulting engineer specialising in recycling in construction, was in charge of getting the message across.
Mirko Sprinzer, consultant :
"With experiences and information that we have gained, we, the entrepreneurs have changed our way of thinking. We have recognized new business opportunities. In our development we focused on combining different wastes from different sectors – for example, civil engineering, industry, public services and water management."
Other good news for the environment is that the number of illegal landfills in Slovenia is in steep decline.
Serge:
"Alenka, you led this project in Slovenia from 2011 to 2014, and today the results are very encouraging."
Alenka:
"Yes, that's true. There is a ten percent higher rate of recycling of construction and demolition waste and at the same time, a 1.5% savings in natural resources."
REBIRTH is co-financed by LIFE, an EU financial instrument that for 25 years has supported projects in environmental improvement, nature conservation and climate action.
A call for new project proposals from entrepreneurs and NGOs will be launched at the end of April.
Another useful tool is the new EU Construction and Demolition Waste Protocol.
Serge:
"Alenka, the fact that this construction sector promotes a circular economy is excellent news, it's win-win!"
Alenka:
"Yes. These are new business opportunities and at the same time it is beneficial for the environment."
Serge:
"Thanks, Alenka. For more info visit Business Planet online or on Social Media. A très bientôt."
Filming euronews</a> <a href="https://twitter.com/hashtag/BusinessPlanet?src=hash">#BusinessPlanet</a> <a href="https://twitter.com/hashtag/Circulareconomy?src=hash">#Circulareconomy</a> <a href="https://twitter.com/hashtag/Slovenia?src=hash">#Slovenia</a> <a href="https://twitter.com/EU_Growth">EU_Growthpic.twitter.com/LTCpTilS29

— Serge Rombi (@SergeRombi) March 22, 2017
LIFE is the European Union's financial instrument supporting environmental, nature conservation and climate action projects throughout the EU. Since 1992, LIFE has co-financed some 4,306 projects. For the 2014-2020 funding period, LIFE will contribute approximately €3.4 billion to the protection of the environment and climate.