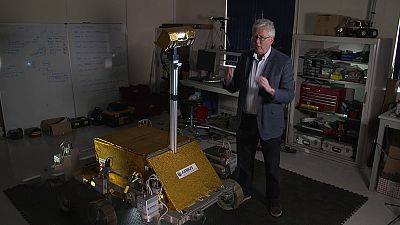 The ExoMars 2020 rover will carry a special camera on its 'head' in order to help in the hunt for life on the red planet.
Andrew Coates, who is the Principal Investigator for the PanCam instrument on the ExoMars rover: "Our camera is going to be at the top of the mast of the rover. We have a 50 centimetre width between the two eyes of the wide angle cameras. So with those two we're going to be able to get stereo images of the terrain near the rover, and look where to drill basically.
"All in all, it's probably the most powerful camera system ever to be sent to Mars, and will be able to give us really good context for the ExoMars rover mission," he says.
"Drilling is the key new thing which we're going to be able to do with this EexoMars 2020 rover compared to any other. The drill will be getting a sample, bringing it back into the rover and analysing it on board and sending the information back to Earth. And so what we're looking for are things like carbonates, sugars, amino acids, things like that, which could potentially be underneath the surface of Mars, in this relatively protected environment, left over from probably life there 3.8 billion years ago."
"I think there could have been life on Mars, and might even be life on Mars," he concluded. "And of course, this is what the rover is going to investigate."
The ExoMars rover is currently under construction at Airbus Defence and Space in Stevenage, United Kingdom.