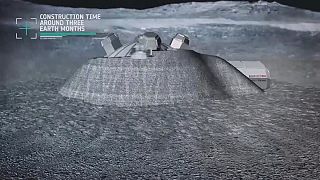 Researchers at the European Space Agency are testing the next generation of 3D-printers to use in Space.
Here, at the European Centre for Space Applications and Telecommunications at Didcot – about 50 miles west of London – scientists are making their expertise available to ESA missions, as well as to the wider space sector, on how 3D-printers can aid future space exploration.
Franco Ongaro, Director of Technology at the European Space Agency is enthused about its future prospects:
"The promise is enormous. You can make very complicated parts without one screw.
"You make them all by themselves and this is an enormous advantage in terms of time, in terms of mass, in terms of ability to do things that we could only dream of."
A lot of tests need to be done given the extreme temperatures and Zero-gravity conditions once out of the Earth atmosphere. The main advantage of this technology is the ability to build objects instead of bringing them, which is a cost in term of space and fuel.
According to Jam Woerner, Director General of the European Space Agency: "If you go to another planet or Moon, in the past we took all of our stuff with us.
"But there is stuff over there, we have soil on the Moon, we have soil on Mars, so therefore 3D printing might be also in the future be used to create structures on Mars or on the Moon"
The orbiting International Space Station is already furnished with a 3D-printer which can create plastic items, such as when it printed a ratchet wrench, But in the short-term, ESA is aiming to use the technology to produce certain engine parts for rocket launchers, for instance, but also complex habitable structures to install on other planets or moons.
One futuristic idea is to use the Moon's natural resources to build and sustain a lunar base..