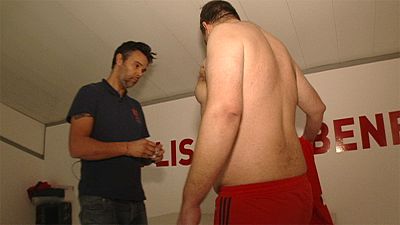 A sedentary lifestyle can lead to cardiovascular disease, diabetes and obesity. That is why a European Union research project aims to promote sport among football fans, of whom they are more than 20 million in Europe.
If your football team tells you to go to the doctor, you go to the doctor
Lisbon's Stadium of Light is home to Benfica football club and the team behind the research.
The first goal: to show how it's possible to encourage lifestyle changes, and then to prevent many diseases too.
Initially, volunteers have to upload their personal data, then if they correctly follow the program after 12 months they will lose five percent of their weight.
EuroFIT Benefica coach, Alexandre Mateus said:
"We have people affected by diabetes, high blood pressure, almost all have problems with obesity."
Measuring up
Volunteers will also improve their blood pressure levels and reduce their waist size by adopting healthier lifestyles. Just the tonic for many who spend much of their working lives sitting down.
"I work in communication, and I am obliged to spend a very long time sat in front of a computer," says EuroFIT volunteer Alexandre Campos Silva.
The University of Lisbon's physical education faculty is studying the benefits of planned physical activity for the human body.
Once you begin working out they've noticed that the benefits remain and that it's good to get used to staying on your feet.
Pedro Teixeira is a professor of physical activity: "We're also concerned that people have less sedentary lives. That means less time sitting and more time standing up day-to-day."
In London, Arsenal football club is cooperating with the research to encourage its supporters to think and act fit.
According to surveys, only ten to 30% of men across Europe actively take part in exercise programmes.
"It is really hard to make lifestyle changes. Even if people want to, they don't know how to go about it," said Sally Wike, EuroFIT coordinator and Interdisciplinary Professor of Health and Wellbeing at University of Glasgow.
"So what we are doing is drawing on the love of football, the love of a football club that people have across Europe. It is a massive draw," added Wike.
The project developed smart technologies to monitor physical activity, but perhaps they wouldn't work without the appeal of the beautiful game.
"If your wife tells you go to the doctor you say mmmhh… If your football team tells you to go to the doctor, you go to the doctor…" said EuroFIT volunteer Frank Judge.
After sport, they also talk also about food quality and nutrition; because after all, you are what you eat according to Samir Singh, EuroFIT coach at Arsenal: "We are not teaching them. Everything we were talking about today they know already. This program is about behavior change, getting them to think about positive messaging for a healthy lifestyle."
This research fills the 'know-how' gap, the vacuum between scientific knowledge and its application. It connects what we are with our subsequent actions. And positive results suggest the program could also be implemented in new fields and disciplines.