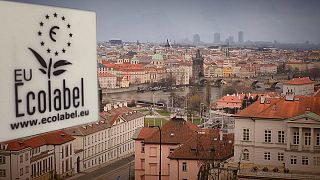 This week, Business Planet has been to the Czech capital to find out more about the European Ecolabel system.
How does it work and how can businesses benefit from the system?
Business Planet's Serge Rombi and the team flew to Prague to see for themselves the Eurolabel scheme in operation.
Filming #BusinessPlanet in #Prague story about EMAS_EUEcolabel</a> on air soon on <a href="https://twitter.com/euronews">euronews cc EU_Growth</a> <a href="https://twitter.com/euronewsbiz">euronewsbizpic.twitter.com/1XM3pgPqLe

— Serge

ROMBI

(@SergeRombi) February 3, 2016
What is the European Ecolabel system and how does it work?
"The EU Ecolabel is a voluntary scheme which is recognised throughout Europe," says Pavel Hruby, who manages the system in the Czech Republic. "It helps people to identify products and services which have a reduced environmental impact."
"Surveys show that almost 80% of travellers around the world think that accommodation providers should adopt eco-friendly practices."
A selling point for clients
Ecolabels have proved to be a great way to attract new business, particularly in the tourism sector.
Six million people visit Prague each year.
Euronews has been to the city's Hotel Adria to see how they have made the system work to their own advantage.
Hotel Adria, Prague
89 rooms
Ecolabel-certified since 2008
Run by General Manager Karel Doubek for 25 years
Karel Doubek is the Hotel Adria's legendary general manager. He has brought in a raft of changes in order to qualify for Ecolabel status.
Prague's Adria hotel is chic, sustainable & cool (we're not just talking about the cave.) https://t.co/TQwXIzXTwNpic.twitter.com/ddKGIrpZtQ

— Visit Czech Republic (@CzechTourism) December 11, 2015
"The heat generated by the chill cabinets we have in the wine cellar, in the kitchen and around the hotel is used to heat the water used by guests in their rooms," he told Euronews.
Associated benefits for the Hotel Adria include:
Carbon dioxide emissions reduced by thousands of tonnes
Induction hobs installed in kitchens
Electricity bills reduced by 40% thanks to

LED

lights
Water bills cut by a third after waste-prevention system installed
Products in bathroom dispensers 100% natural
Karel's commitment is also ethical and community-orientated. He works hand-in-hand with local businesses and associations to source the products he needs and also to organise trips for the hotel's guests. It's an idea with wide appeal:
"More and more guests are telling us how important it is for them to respect the environment. It is mainly clients from the Nordic countries, Great Britain and other eastern European countries,"Karel says.
The Ecolabel system in 3
Set up almost 25 years ago by the European Commission
Almost 45,000 products and services
France, Italy and Germany have the most licences awarded
Find out more
The Ecolabel website
Business Planet webpage
EU Ecolabel
The EU Ecolabel is a voluntary scheme recognised throughout the European Union. It helps people to identify products and services that have a reduced environmental impact.
Tourist accommodation can put pressure on natural resources and threaten the environment by inefficient waste management, water or energy consumption.
According to research, over 50% of tourists opt for environmentally-friendly resorts and accommodation when possible.
The EU Ecolabel provides tourist accommodation valid proof of their reduced energy and water consumption, low waste production and good use of renewable resources.
Useful links