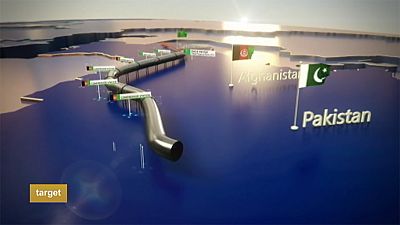 The buttons have been pushed, and the welders' blowtorches are firing up. A historic ceremony in Turkmenistan was the start of what's due to become the Trans-Afghanistan Pipeline, or TAPI – the abbreviation that comes from the first letters of the countries participating in this ambitious project.
It will provide a powerful impetus for the strengthening of sustainable development and peace. The construction of a new gas pipeline will create about 12,000 jobs.
The TAPI pipeline will take natural gas from Turkmenistan to Afghanistan, Pakistan and India. And it all begins at Galkynysh, the second largest gas field in the world.
Euronews reporter Maria Korenyuk said: "From this very place, the pipeline will run more than 1800 km to the Fazilka Village situated on the Indo-Pakistani border. It's expected to be operational in three years."
TAPI's initial capacity should be about 33 billion cubic metres of natural gas per year that roughly matches Turkmenistan's current exports to China. It will provide Afghanistan with 14 million standard cubic metres a day of natural gas, while India and Pakistan will each receive close to 40 million standard cubic metres.
However, TAPI's progress may be blighted by deadly regional conflicts. The pipeline will pass a dangerous route through Afghanistan's Kandahar province and the neighboring Quetta region of Pakistan – the heartland of the Taliban militancy.
India's Vice President, Mohammad Hamid Ansari, told euronews the partners are aware of the challenges that lie ahead: "We must recognise that the forces of violence and disruption can no longer be allowed to threaten the quest for economic development and security of our people."
Plans for the TAPI gas pipeline have been nearly 20 years in the making because of administrative delays and unrest in Afghanistan, but authorities believe the security situation has greatly improved.
Daud Shah Sabah, Afghanistan's Mines and Petroleum minister said: "We have successfully implemented the security structure of the biggest mining project in Afghanistan. It's successfully done. We have that model and we will implement it in TAPI as well."
"We hope that the terrorist groups that are coming from outside into Afghanistan will be expelled by the communities once the community has an asset there for them, which is the TAPI pipeline," he added.
Officials say security is dependent on economic development. So, TAPI, once completed, may bring new prosperity along with peace and stability.
Announcing the plans, Turkmenistan President Gurbanguly Berdimuhamedov described the project as being of huge "economic importance" for suppliers and consumers.
"It will provide a powerful impetus for the strengthening of sustainable development and peace. The construction of a new gas pipeline will create about 12,000 jobs," he said.
State owned Turkmengas heads the venture and the firm says it is looking to cooperate with international investors on the project.
"85% of shares now belong to "TurkmenGas", the other three countries hold 5% shares each. However, we have invited foreign companies and financial organisations to participate in the TAPI pipeline project. We hope that we can cooperate under mutually agreed terms," explained Muhammetmyrat Amanov, deputy chairman of TurkmenGas.
In order to diversify its natural gas markets, Ashgabad has already reached tentative agreements with Turkey, Japan, and South Korea. The European Union, which is looking to decrease its dependency on Russia, also expects to start receiving natural gas supplies from Turkmenistan by 2019.