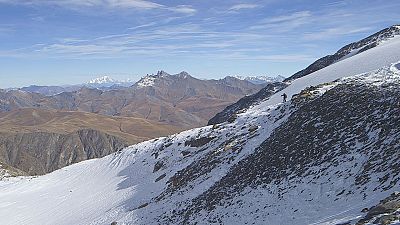 We have all heard of climate change, but what's really happening to our planet now, in November 2015? As the COP21 summit in Paris looms in December, we set out to establish some of the scientific fundamentals, and hear how space technology is being used to get a truly global view of Earth's vital signs.
Near Les Deux Alps in the French Alps, some 3,200 metres above sea level, we look at how satellite data and glacier measurements can help us to understand the effects of global warming with remote sensing scientist Jean-Pierre Dedieu.
"Here in the Alps the verdict on climate change is unequivocal," he tells us. "There's really a split compared to the conditions we were able to observe as little as 20 years ago. It concerns the snow, the glaciers are losing surface area and volume."
Earth's glaciers are melting- we report from Les Deux Alpes glacier up at 3200m for euronews</a> Space Thursday 19.11 <a href="https://t.co/PFybvOBxHH">pic.twitter.com/PFybvOBxHH</a></p>&mdash; euronews knowledge (euronewsknwldge) 17. November 2015
The reason for the warming is the greenhouse effect. This year, CO2 levels in the atmosphere hit 400 parts per million (ppm), their highest level since the Pliocene era, well before the time of humans.
Meanwhile in the picturesque French fishing port of Collioure, we get the lowdown on rising sea levels and how they differ around the world from IPCC contributor and sea level altimetry pioneer Anny Cazenave.