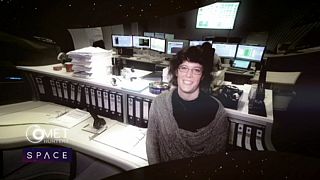 The Rosetta Mission, Europe's quest to put a robotic lander on a comet, is gathering momentum.
Last month, the Rosetta probe woke up from hibernation after two-and-half-years in a deep sleep moving through space.
With 267 days to go before it puts the Philae lander on a comet the spacecraft is still 800 million kilometres from Earth, yet remains close to the hearts of those who control it.
Euronews will be following the Rosetta team throughout the year as they carry out their groundbreaking mission. Click above to check out our first visit to the team's control room.