Europe's week: Sarkozy guilty, German election and Polish 'pushbacks'
Comments
By Euronews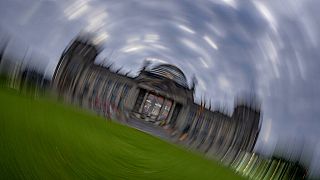 This week saw Nicolas Sarkozy became the first former French president to be convicted of a crime twice.
After receiving a three-year jail term for corruption last winter, this time around he was found guilty of deliberately overspending his failed 2012 re-election campaign.
In fact, he spent about €22.5 million – almost double the maximum legal amount.
The court sentenced Sarkozy to one year in prison, but the former French president wants to appeal the verdict, according to his lawyer, Thierry Herzog.
"President Sarkozy, with whom I spoke on the phone just now, asked me to go and appeal, which I will do immediately when I leave here, and of course the judgment will not be enforceable," Herzog said on Thursday.
German and Iceland elections
In other news, it was a volatile and unpredictable election last weekend, in which voters rallied around the political centre rather than strengthening the extremes.
It sounds like Germany, but it was in fact in Iceland. Tough coalition talks between the Conservatives, who dropped below 25 per cent, the Greens and the centre-right Progressives are now expected.
Together, they now hold 37 of 63 seats in Parliament.
In Germany though, the new post-Merkel political reality is different – for starters, the Bundestag following this week's elections has 735 seats.
The winner was Social Democrat Olaf Scholz who wants to put together a coalition with the Greens and the Liberals – although a so-called "Jamaica coalition" of Christian Democrats, Greens and Liberals is still not off the table.
At a press conference, Scholz was already treated as the next chancellor when asked whether he would send German truck drivers to Brexit Britain.
"The free movement of labour is part of the European Union, and we worked very hard to convince the British not to leave the Union. Now they decided differently, and I hope they will manage the problems coming from that," Scholz told reporters on Monday.
Belarusian visas suspended, as Poland accused of migrant pushbacks
Brussels also announced on Wednesday that it had partially suspended a special visa agreement with Belarus in retaliation for the ongoing migration crisis on the border with Poland, Lithuania and Latvia. The suspension will only apply to government officials and holders of diplomatic passports.
Brussels believes the regime of President Alexander Lukashenko is encouraging migrants to cross the border and enter EU territory in order to destabilise the bloc's internal politics and sow chaos.
Polish border guards said they had recorded 3,500 successful and unsuccessful border crossings in August, with around 5,000 more attempts in September alone. Warsaw has reacted by reinforcing the borders with soldiers and razor wire to stop the attempted entries. The government is currently seeking an extension of its state of emergency to cope with the situation.
"We are seeing a totally new phenomenon from Lukashenko. This is a person and a regime that is desperate, after the sanctions from the EU, that really hurt him. He is trying to invite or import migrants and they have to pay a lot of money," Ylva Johansson, European Commissioner for Home Affairs, told Euronews. "They are being tricked by false promises."
At the same time, Amnesty International accused Poland of illegally pushing back asylum-seekers into Belarus.
According to the human rights NGO, Polish authorities pushed back a group of 32 Afghan asylum-seekers — including a 15-year-old girl — in late August. They had first entered the country on August 8.
It said that satellite imagery and photographs showed that the group was on the Polish side of the border on August 18, but that they were "moved overnight" to the Belarusian side.
"Amnesty International believes that this movement may be evidence of an illegal push-back, as it appears to have occurred while armed Polish border guards surrounded the refugees' makeshift camp," it said in a statement on Thursday.
It added that the 32 Afghan nationals filed asylum claims on August 20 with the help of lawyers and that the European Court of Human Rights ordered Poland five days later to provide them with assistance including food, water, clothing, adequate medical care and if possible, shelter, but that more than a month later, Warsaw had failed to implement these interim measures.
Euronews contacted Poland's government for comment but is still awaiting a response.
EU-US Trade and Tech Council kicks-off
Brussels and Washington set the stage on Wednesday for a new era of closer cooperation to determine the rules of trade and technology of the 21st century while simultaneously boost their domestic industries and achieve greater self-reliance.
Turning the page on four precarious years of fraught EU-US relations under the Donald Trump administration, the two Atlantic partners gathered in Pittsburgh, Philadelphia, for the first meeting of the EU-US Trade and Technology Council (TTC), a new forum designed to deepen economic ties, coordinate digital policy and ensure that any potential dispute is resolved swiftly and efficiently.
The bloc was represented by two of its heavyweight commissioners: Margrethe Vestager, who oversees the bloc's digital policy and competition law, and Valdis Dombrovskis, in charge of economic and trade matters. The US sent Commerce Secretary Gina Raimondo, Trade Representative Katherine Tai and Secretary of State Antony Blinken, whose presence as America's top diplomat underlined the foreign policy dimension of the discussions.
The conclusions from the inaugural ceremony present a detailed and ambitious range of topics that the EU and the US vow to tackle together, including microchips, robotics, forced labour, disinformation, counterfeit, algorithm transparency, cloud infrastructure, cyber-security and digitalisation of SMEs, together with wider and more complex challenges, such as climate change, fair competition, regional peace and human rights.
"It's just a remarkable spirit of cooperation, collaboration and a desire between the United States, the European Union, to work very, very closely together," Secretary Blinken said about the communiqué.
The meeting came following a rocky few weeks in relations between the Americans and Europeans, after a submarine deal worth billions between Australia and France was cancelled in favour of one between Canberra and Washington instead. After receiving a three-year jail term for corruption last winter, this time around he was found guilty of deliberately overspending his failed 2012 re-election campaign.