Ex-owners of Italian steelworks jailed over deadly factory pollution
Comments
By Euronews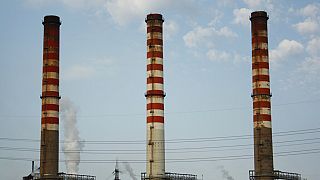 -
An Italian court has sentenced the former owners of a steelworks company to prison for more than 20 years for allowing one of its factories to emit deadly pollution for in excess of half a century.
The Riva brothers, Fabio and Nicola, were handed 22 and 20 years respectively in jail for their part in letting the Ilva steel company's factory in the city of Taranto expel harmful quantities of pollutants, wrapping up a trial that has lasted for five years.
The former head of the region Puglia, Nichi Vendola, was also sentenced to three and a half years, as well as a handful of other local politicians and company managers being punished.
Previously one of the largest steelworks in Europe, the impact of Ilva's pollution was highlighted in a 2016 report by the regional health authority.
Lung cancer death rates were 30% higher than normal in areas surrounding the factory, with workers at the plant also proven to be at a significantly increased risk of multiple different cancers.
According to Dr Annamaria Moschetti, the carcinogenic dioxins and mineral particles being emitted have even had an impact on the mental development of some children in the region.
"The Higher Institute of Health carried out a study, the results of which were communicated in 2019 and it appears that children who live closer to industrial plants, compared to children who live further away, have a reduction in their IQs of about ten points," Moschetti told Euronews.
Alessandro Marescotti, the president of the organisation Peacelink, says that EU funds must be used to end this type of pollution and help transition towards a more sustainable future.
"It's time to put an end to this agony for good and to take advantage of European funds to design paths of real ecological transition with the best skills," Marescotti explained to Euronews. "We really need to invest at least €5bn in Taranto to re-employ Ilva workers and put the future of the city on a truly sustainable project that has a future."
However, pollution and the problems associated with it are not just an issue for Taranto.
The many cancer patients of the Italian city are supported by the national health system, which means that having healthy air would also be good for the country's public finances, as Génon K. Jensen, founder and executive director of Brussels-based thinktank HEAL told Euronews.
"Whether it is air pollution, which we know causes over 400,000 deaths a year in Europe alone, and is entirely preventable...if we can make these health costs and their impact more visible to citizens, then I think we will have more support for policies that actually address and reduce the health impact from the European Union," Jensen said.