Coronavirus: Europeans warned to avoid 'temptation' of sunny spring weather
Comments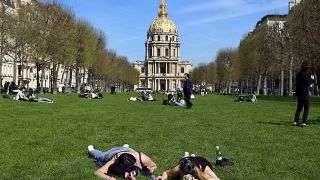 -
A period of warm, sunny weather will be felt across parts of Europe this weekend, but leaders have reaffirmed warnings that this should not relax social distancing measures.
In London, UK Prime Minister Boris Johnson - who has COVID-19 himself - urged Britons to avoid the "temptation" of making the most of the spring sun.
He said: "I reckon a lot of people will be starting to think that this is all going on for quite a long time and they'd rather be getting out there.
"And, particularly if you've got kids in the household, everybody may be getting a bit stir crazy.
"There may be just a temptation to get out there, hang out and start to break the regulations.
"I just urge you not to do that."
A message from the UK government Twitter account was more direct in its approach with the message: "Don't meet up with mates. Hanging out in parks could kill."
Meanwhile, French Interior Minister Christophe Castaner issued a similar stark warning of what is "at stake" over the weekend.
In a video message to Twitter, he said: "No release is allowed. Lives are at stake.
"Today, tonight, all weekend, checks are organised by the police and the gendarmerie all over the country: on vacation spots, in places public and wherever necessary."
Latest coronavirus updates from around the globe
**New York's governor has said China is sending the state 1,000 ventilators. **

A 5-year-old became the youngest person to die of COVID-19 in the United Kingdom.

The UN will decide in the next month decide whether or not to delay the September General Assembly meeting due to the outbreak.

The singer Pink has said she had coronavirus and is now donating $1 million to support hospitals and emergency efforts.
55,000 deaths globally
The novel coronavirus has killed more than 55,000 people around the world and over a million have now been infected. Europe remains the hardest-hit region, accounting for more than 35,000 of the fatalities.
Spain reported on Saturday a total of 124,736 cases of coronavirus, now surpassing Italy as the second-worst hit country in the world.
The country's death toll has already passed 10,000 but remains behind Italy where 766 new deaths were registered on Friday, bringing the total number of victims to 14,681.
France and the UK are also especially impacted by the pandemic.
British authorities announced on Saturday that a further 708 people had succumbed to the disease over the previous 24 hours, bringing the total number of fatalities in the country to 4,313.
Health Minister Matt Hancock revealed during the government's daily press conference that two nurses and two healthcare assistants had been included in the new death toll.
He also announced that two further Nightingale hospitals, in Bristol and Harrogate, would be built with a combined capacity of 1,500 beds. The first such hospital was opened on Friday in east London and two others, in Birmingham and Manchester, are due to open shortly.
In France, the death toll reached 6,507 on Friday with 5,091 deaths recorded in hospitals — an increase of 588 over the previous day — and a further 1,416 registered in old people's home.
French health authorities only started communicating the number of fatalities in old people's home on Thursday. They then stood at 884.
The US is also increasingly under pressure. The country recorded the world's highest one-day death toll on Thursday with 1,169 deaths, bringing the total so far to over 6,000.
The novel coronavirus has killed more than 55,000 people around the world and over a million have now been infected.
Worse than global financial crisis
The head of the International Monetary Fund (IMF) said on Friday that the economic impact of the COVID-19 pandemic was now "way worse than the global financial crisis".
Speaking during a press conference hosted by the World Health Organisation (WHO), IMF Managing Director Kristalina Georgieva said the organisation was prepared to use its "one trillion dollar war chest" to help the most vulnerable - adding that the pandemic was "a crisis like no other".
"Never in the history of the IMF we have witnessed the world economy coming to a standstill. We are now in recession," she said.
She added that in the same way the deadly disease hits vulnerable people with pre-existing medical conditions, it has also hitting vulnerable economies the hardest.
"We have a $1 trillion (€930 billions) war chest and we are determined to use as much as necessary in protecting the economy from the scarring of this crisis," she went on.
Over 90 countries have now asked the IMF for emergency funding, Georgieva also revealed.
250,000 Europeans awaiting repatriation
To "make it easier financially" for member states to combat the deadly COVID-19 pandemic, Brussels announced on Friday that customs duties and VAT on the import of medical equipment from non-EU countries will be waived for at least six months.
The measure applies for masks, protective equipment, testing kits, ventilators and other medical equipment, the European Commission said in a statement.
Commission President Ursula von der Leyen said in a video the measure is the bloc's "contribution to easing the pressure on prices for medical and protective equipment and to make them more affordable".
"In Italy, customs duties of 12 per cent and a value-added tax of 22 per cent is levied on some face masks or protective garments that we import from countries like China. Our decision will make them one third cheaper. For ventilators, the average value-added tax rate is 20 per cent," she said.
The temporary measure is to be applied for at least six months but could be extended if necessary.
The bloc's top diplomat, Joseph Borrell also revealed on Friday that more than 250,000 Europeans are awaiting repatriation.
He told reporters that flying EU nationals back home is "becoming more difficult every day due to the fact that many airlines have been grounding their planes and also because the airspace has been closing every day".
So far, 350,000 Europeans have been flown back to Europe, Borrell said.
Millions unemployed
Half of the world's population has now been asked or ordered by their governments to stay at home to combat the spread of the disease with instructions to work remotely if possible.
But the economy has already been sent into a tailspin with governments pledging hundreds of billions of dollars to support companies and workers impacted by the pandemic.
Applications for welfare benefits in Britain increased nearly tenfold to almost 1 million in the past couple of weeks, while the European Union estimates at least a million people in member states lost their jobs over the same period. Spain alone added over 300,000 to its unemployment figures in March.
The economic impact is again, particularly acute in the US. Ten million Americans have lost their jobs in just two weeks due to the coronavirus outbreak, the biggest collapse the US job market has ever seen.