Watch back: France marks 101st anniversary of WWI armistice signing
Comments
By Euronews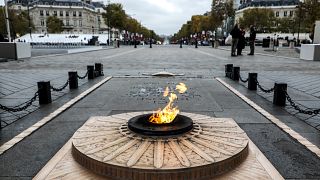 France is marking the 101st anniversary of the signing of an armistice to end World War I.
Armistice marks the day the allies signed an agreement to halt fighting with Germany to end the Great War on November 11, 1918.
Tens of millions of people died in the First World War which lasted from 1914 to 1918.
The French ceremony is taking place in Paris at the base of the Arc de Triomphe where a flame signifies an unknown French soldier who died during the war.
The Great War
World War I was at the time more deadly than any previous war.
It was fought between the Allied Powers (which included France, Britain, Italy and the US) versus the Central Powers of Germany, Austria-Hungary, Bulgaria and the Ottoman Empire.
The conflict began after the assassination of Franz Ferdinand, the Archduke of Austria.
There were millions of casualties, with some estimates reaching as many as 40 million injured and dead.
The Treaty of Versailles was signed in June of the next year, 1919, officially ending the war.
But many historians believe that the end of World War I led to the beginning of World War II which would break out just 21 years later.