Brexit by the sea – Tiny Dutch village braces for huge Brexit party
Comments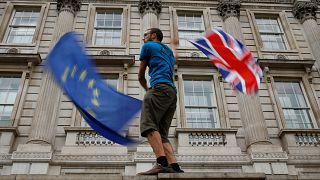 This is Wijk Ann See, a Dutch seaside town of about 2,400 inhabitants. Two week ago one of locals here came up with a wacky idea. To throw a Brexit departure party on the 31 October. To spread the word, the 55 year old filmmaker Ron Toekook set up a Facebook event. His idea went viral and he expects 10,000 people to come.
"The crazy thing is people are booking flights from the US and from China, I just got someone from Spain who booked a flight," Ron Toekook, Brexit aan Zee organiser tells Euronews.
But will the tone be one of celebration or commiseration I ask?
"It is neither a sad or a cheerful party. We see Great Britain as an old friend who is going on a adventure that we would not dare to take. We believe it is a bit silly," Toekook explains.
"It is fun thing that they though about it and its a goodbye party I think it s fun," says one local resident.
But for others there is little cause for celebration.
"No, that is not a party, it is really sad to not have Britain in the EU," another resident tells Euronews.
The local mayor Martijn Smit hopes the event will put his region on the map.
"At Wikj ann See , we like to party, but it has to be responsible, that is my job. The idea of waving to the Brits and waving back is great and to have different types of music from different European countries. It is amazing idea and we support it," Smit says.