Vincent Lambert: Paris court demands treatment be resumed in 11th-hour ruling
Comments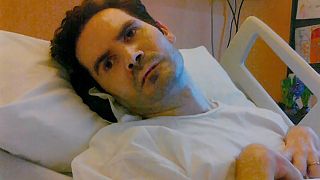 The Court of Appeal of Paris ordered on Monday that treatment been resumed for Vincent Lambert after doctors had begun halting life support, prolonging a 10-year legal battle between his parents and wife on whether to end his life.
The court's 11th-hour decision came as deep sedation treatment had begun for Lambert, who has been in a vegetative state, fed and hydrated intravenously since a motorbike accident in 2008.
The former psychiatric nurse has become central in the right-to-die debate in France with his parents and spouse deeply divided over whether to allow Lambert to pass away.
The verdict came after his parents lodged an emergency petition with the Paris' Court of Appeal following a European Court of Human Rights' ruling against them.
The ECHR stated that the original ruling two years previously still stood and that doctors could start the process of putting Lambert into a sedative state.
Lambert's parents, who are planning to pose more legal challenges to prevent what they call "legalised euthanasia," have said Monday's ruling is a "very big victory."
Watch the full report in the player above