British restaurant owner remains defiant amid abuse over anti-Brexit receipts | #TheCube
Comments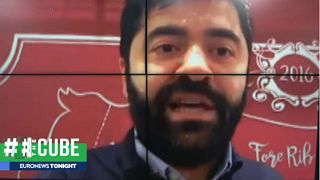 The owner of a London restaurant that hit headlines for printing anti-Brexit messages at the bottom of its receipts says he will not be deterred by threats.
Ibrahim Dogus, the owner of the Westminster Kitchen, last week began printing messages on the bottom of his receipts, reading: "Brexit is bad. Immigrants make Britain great. They also cooked and served your food today."
He told Euronews he was forced to call the police after he and his staff received abusive messages over the receipts.
"Far right groups led by Tommy Robinson have shared this [the receipt] on their social media accounts, and they have encouraged one another to target our business' online reputation, by attacking us, leaving horrible comments on Google Business, Trip Advisor, Facebook and so on," he told Euronews' The Cube.
"Then they started calling our restaurant and threatening our members of staff, making them uncomfortable working here in the business."
Among the threats Dogus claims he and his staff have received are messages calling him a "traitor" and saying "burn the place down".
Dogus says the receipts were created out of frustration with the ongoing Brexit debate.
"I thought maybe as a small business owner, as someone from a refugee family from Turkey, I should do something else to make my own point. The only thing I could think of at the time…was to print a message on our receipts," he said.
He noted that other businesses, such as the Wetherspoons pub chain, have actively promoted Brexit.
"We are a tiny, small restaurant, with a hundred tables and about 25 people working here. So our effect on the process is quite limited compared to those large companies who have been running pro-Brexit campaigns through their businesses. So I feel that no one should be offended – that's my point of view," he said.
"We made a point, that Brexit is bad for our small businesses, it's bad for our communities and immigration has been great for Britain. That's all I tried to make in that simple message on my receipts."
Dogus said he had also received messages of support for the campaign and vowed that the threats will not stop him.
"We will carry on printing the same receipts. Our plan is to change the messaging on our receipts every month – whatever is quite important on the day, whatever is on the agenda we are going to try and come up with new messages on our receipts.
"We're not going to give into racist bigots, we're going to carry on."