European Parliament votes to trigger Article 7 sanctions procedure against Hungary
Comments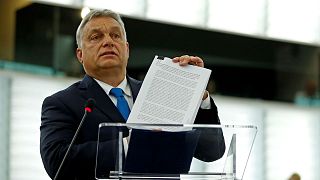 The European Parliament voted on Wednesday to trigger Article 7 disciplinary procedures against Hungary for undermining democratic rules.
The motion to trigger Article 7 passed in the Strasbourg plenary session with 448 votes in favour, 197 against and 48 abstentions.
The same procedure was launched by the European Commission against Poland in December 2017, but Wednesday's vote marks the first time that the European legislature has ever triggered the action.
What is Article 7?
Article 7, often dubbed the "nuclear option", is the EU's punishment clause, allowing it to discipline member states when there is a "clear risk of a serious breach" of the bloc's core principles.
A proposal to trigger Article 7 can be brought forward by the European Parliament, the European Commission or by one-third of member states.
The European Council, with the consent of the European Parliament, must then reach a four-fifths majority decision on the proposal, and speak to the state in question.
Once adopted, the measure has two parts—a preventative mechanism and a sanctioning mechanism.
Article 7(1), as triggered against Hungary, means a formal warning is given to the state. If this doesn't have the desired effect, Article 7(2) can be used to impose sanctions and suspend EU voting rights.
Why Hungary?
A report by Dutch MEP Judith Sargentini into Hungary and Prime Minister Viktor Orban's Fidesz party launched the Article 7 debate.
The report accuses Hungary of various breaches of EU values.
It cites migrant abuse; restrictions on press freedom; corruption and conflicts of interest; and "stereotypical attitudes" towards women, among other concerns.
What has Orban said?
During a debate over the motion on Tuesday, Orban remained defiant, telling lawmakers he would not bow to EU "blackmail".
"You think that you know the needs of the Hungarian people better than the Hungarian people themselves. Therefore I must say to you that this report does not show respect for the Hungarian people. This report applies double standards, it is an abuse of power, it oversteps the limits on spheres of competence, and the method of its adoption is a treaty violation," he said.
"Hungary shall continue to defend its borders, stop illegal immigration and defend its rights – against you, too, if necessary," he said, drawing applause from the eurosceptic, far-right lawmakers in the assembly.
Other reactions
Taking to Twitter following the vote, Sargentini celebrated the result.
"I thank my colleagues that stand for the protection of democracy and the rule of law, above their interest in party politics," she wrote.
Amnesty International's expert on human rights in the EU, Berber Biala-Hettinga, said the European Parliament had "rightly stood up for the Hungarian people and for the EU."
"Today, European Parliamentarians stood up for what is right. European Member States must now follow suit and take urgent action before Hungary slides towards arbitrary rule beyond the point of no return," she said.