'You are the most corrupt government in the EU,' Socialist MEP tells Orban
Comments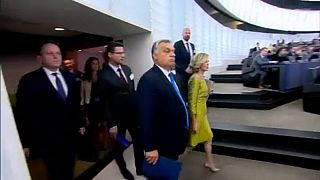 It was quite an entrance, Viktor Orban, Hungarian Prime Minister, who turned up late to a debate on his country's relationship with the EU.
The European Parliament is set to vote on triggering Article 7 of the EU's treaties against Hungary over the country's human rights record.
If approved, it could lead to Budapest having its voting rights suspended. Viktor Orban took the stand to defend his government: "You believe you know better than Hungarians what they need, therefore I have to say this report does not give due respect to Hungarians.
This report uses double standards, abuses powers and goes beyond competences, and how it is approved is violating the treaty."
The debate which followed was heated, to say the least.
Udo Bullmann, German Socialist MEP, pointing at Orban: "You are here today at the head of the most corrupt government which is here in the EU, that's regrettable but it's true."
Rysward Antoni Legutko, Polish EPP Conservative MEP: "You said this is not an attack on the Hungarian society but on the Hungarian government. Somebody elected this government, it wasn't Snow White and the Seven Dwarves."
The debate itself became about the existential survival of the EU itself, pitting populists against liberals.
"I will be the first to be against measures or sanctions against Hungarian people, against the country. These sanctions have to be especially directed against the Hungarian government", said Guy Verhofstadt, Belgian Liberal MEP.
At stake in Wednesday's vote is the EU's power to intervene in internal affairs of member countries to defend its fundamental values.