'We feel like second category citizens,' say abortion campaigners
Comments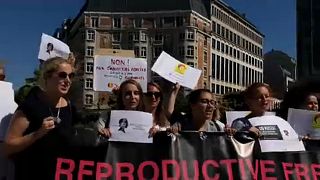 Protesters have been venting their opposition against planned changes to Poland's abortion laws, in Brussels.
They think moves to ban terminations in cases involving irreparably damaged fetuses is wrong. This, as a special Polish commission of legislators examined the proposal.
"If such a law passes, it will put us in a more marginalised position than we are at the moment," said Gosia Wochowska, a Polish activist.
"We do feel (like) second category citizens, whose rights are not protected but we get threatened by the law makers and this is not right."
Campaigners fear that tighter restrictions would lead to more illegal abortions - and hike the health risks for women.
They want the European institutions to pile pressure on governments like Poland.
"We want European MEPs, in the context of next May's elections, to focus on the defense of sexual and reproductive rights, defense of women's rights, including the right to terminating a pregnancy," said Sylvie Lausberg, from the Council of Francophone Belgian Women.
Polish opposition politicians claim the law change plan is timed to switch attention from Warsaw's controversial Supreme Court reforms.