Taking sides - EU lawmakers debate Middle Eastern conflict
Comments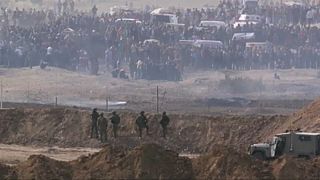 Tensions in Gaza are set to flare again...
The encampments set up in the Gaza Strip as part of the so-called March of Return protest will be moved 50 meters closer to the border with Israel, the organizers of the mass demonstrations announced.
The European Commission said the deaths of Palestinians in recent protests raised "serious questions about the proportionate use of force", and the issue was subject to heated debate in the European Parliament.
"We firmly condemn the recurring attacks by Hamas against Israel, as well as the use of civilians as human shields", said Cristian Dan Preda, a centre-right MEP from Romania.
"Our aim is to prevent an escalation of violence. But that's not the wish of Hamas, an organisation which seeks confrontation."
A group of MEPs recently tried to visit Gaza but was denied access. Soraya Post, a Social Democrat from Sweden, was among them.
"With a huge risk to be judged and called anti-semitic I dare to say, me myself, as a Roma and Jewish, I have strong criticism towards the Israeli government", she said.
"Now is the moment for the EU to speed up the two-state solution. It is the only way to secure a peaceful, fair future for both of them. "
EU lawmakers continued calls for an end to the blockade, commitment to a two-state solution and engaging with Egypt to re-open the Rafah border crossing in order to ease the suffering of the nearly two million Palestinians living in the Strip.