EU calls on Russia to bring Syria back to talks
Comments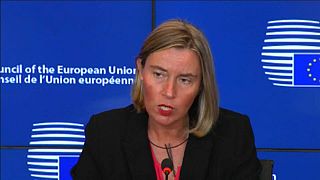 The European Union has fallen in line behind Britain, France and the United States, squarely codemning the chemical attack in Syria and calling for the UN process to be followed.
"The Foreign Affairs Ministers classified as shocking the alledged chemical attack in Syria and asked for an independent investigation", says Euronews reporter Isabel Marques da Silva.
"Federica Mogherini, the chief of the EU's diplomacy asked for the UN peace process to be relaunched. she will discuss this topic with members of the European Parliament, on Tuesday, in Strasbourg".
Mogherini appeared very disappointed stressing that a solution to this 7-year conflict seems more elusive than before: "The only way to put an end to the suffering and dying of so many Syrians and by the way the only way to avoid that the syrian crisis further spirals into a wider regional or global confrontation is to put all the pressure on the parties and namely on the Syrian regime to come to Geneva with meaningful intentions for negotiations".
Some analysts hope that the western airstrikes can bring the parties to a peace deal. Here is Marc Pierini of Carnegie Europe.
"Russia has been carefully warned, it has sheltered its staff and equipment, and so it is to be hoped that these strikes, which are in no way an aggression against Russia and not even against the Assad regime, also serve to give the signal that it would be time after 7 years of an atrocious war to talk politics and talk about a settlement of the conflict."