Let the battle commence! EU leaders talk post-Brexit budget
Comments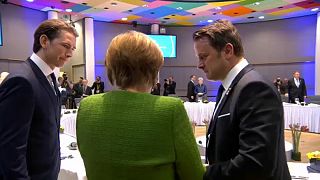 Let the battle commence. EU leaders are meeting at informal summit in Brussels to talk cash.
They're looking at the bloc's future budget, post Brexit - when there'll be around 10 billion euros less in the pot each year.
This, as the European Commission pushes for a hike in funding to pay for new policies.
"If we want to have new priorities, new policies, future policies. And if we can't reduce to the right extent old policies, then countries have to pay more," said EU Commission President Jean-Claude Juncker. 
Budget divisions
But countries are divided over the budget increase.
Sweden, Denmark and Austria and the Netherlands have ruled out higher payments.
The Dutch PM is focused on what he wants.
"Opening up the money by modernising budget and lowering the budget with the fact that UK is leaving," said Mark Rutte.
New taxes
The European Commission's proposing to patch up the Brexit hole with a mix of spending cuts and new revenue sources.
"We are working hard as the EU parliament in favour of (our) own resources. For example, we need a web tax, because it is unacceptable to have companies working in Europe without taxation."
Top job shortlist
Top jobs are also up for discussion.
Leaders are expected to reject a proposal to have their choice of next EU Commission head limited to a parliamentary shortlist.
"Why would we have a spitzenkandidaten if we can not elect them anywhere? Then it would be a logical consequence to have transnational lists and to have a spitzenkandidaten," said Luxembourg's Prime Minister Xavier Bettel 
But leaders are likely to back a cut in MEPs after the Brexit Britain deputies leave,
There is plenty on the table as the EU looks at its future.