Serban Nicolae: Using secret protocols is deep illegal
Comments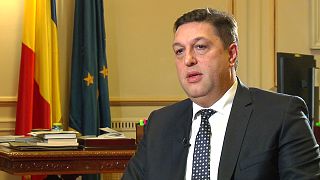 The European Commission and the Council of Europe are concerned about what they see as Romania's "backtracking" in the fight against corruption. But Bucharest is determined to go ahead with the controversial reforms.
She (the head of the Romanian Anticorruption Directorate DNA) should go.

PSD senator
While PSD leader Dragnea did not respond to euronews' request for an interview, the party's Senate Speaker, Serban Nicolae, agreed to talk.
Nicolae tells euronews that the anti-corruption bureau is linked to Romania's secret service:
"If you conduct an investigation using secret protocols, (using) common teams of prosecutors with officers from the secret service, this is deep illegal, this is deep part of abuse, this is like a cancer of society and it undermines the credibility of the judiciary action, especially in the anti-corruption fight".
By allegedly employing these tactics, Nicolae says, Laura Kövesi has undermined her credibility as head of the DNA task force.
"If she considers that she had done nothing wrong by using secret protocols or secret rules of procedure, she should go".
Leading Romanian senator attacks head of Anticorruption Directorate DNA, Laura Kövesi. "She should go", PSD senator Serban Nicolae says euronewsinsidrs</a> Bucharest <a href="https://twitter.com/hashtag/euronewsreport?src=hash&ref_src=twsrc%5Etfw">#euronewsreport</a> <a href="https://twitter.com/hashtag/rezist?src=hash&ref_src=twsrc%5Etfw">#rezist</a> <a href="https://twitter.com/hashtag/corruption?src=hash&ref_src=twsrc%5Etfw">#corruption</a> <a href="https://twitter.com/euronews?ref_src=twsrc%5Etfw">euronewspic.twitter.com/wDxrOKHnIX

— Hans von der Brelie (@euronewsreport) 31 janvier 2018
Nicolae also pushes back against DNA's aggressive pre-trial tactics. Defendants should not be arrested in the full glare of the media before being detained – for weeks or even months – ahead of their trial.
"If you have a corrupt person, a high-ranking official, you do not have to arrest this person. You have to get evidence. The preventive (pre-trial) arrest is not a sanction. It is like a way to show the power of the prosecutors, it is like street judgement," Nicolae says. "If people see a high-ranking politician handcuffed in front of the camera in the middle of the night, some people feel some kind of satisfaction, like in antique Rome of the gladiators in the arena. But this is not a judicial system, this is revenge, this is political fight, this is abuse, this is also corruption".