Europe explores new opportunities in space
Comments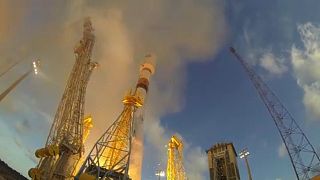 The 10th Conference on European Space Policy is underway in Brussels.
The space industry was there to lobby the EU to increase spending.
On offer, cutting edge technologies that could give the Europe a competitive advantage over its economic rivals.
"The combination of terrestrial and satellite communications will be the solution of the future," Violeta Bulc, European Commissioner for Growth told euronews. "What do I mean? Satellite 5G and microwaves communication, wich will be very much used as a hybri d communication in connected cooperative and autonomous mobility solutions of the future".
Climate change
Climate change could also offer opportunities.
The EU's Copernicus satellite programme monitors the earth for natural changes, including climate change.
"We need to have a coordinated system - not developed in isolation in Europe but with some of our partners to try to control greenhouse gas emissions and to figure out where they originate," says Philippe Brunet, Director for Space Policy, Copernicus and Defence at the European Commission. 
"Nous devons avoir un système coordonné, pas developpé isolement en Europe, mais developpé avec certains de nos partenaires pour essayer de controler les emissions des gaz à effet de serre et de localiser, là d'où elles viennent"
European space technology needs to find a niche to drive industrial leadership. The fight against climate change could be just what it's looking for.