Palestinians look to EU to broker peace talks
Comments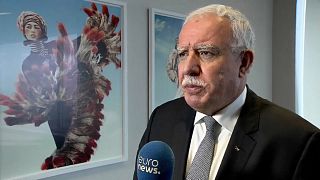 The European Union has long been the Palestinians' largest donor, supporting the small region in everything from infrastructure to civil society.
Now Palestinian leaders are lookng to Brussels to mediate peace talks with Israel. Since Washington recognised Jerusalem as Israel's capital, the Palestinians no longer trust the US to play fair. Euronews spoke to Riad al-Malki, Foreign Minister of the Palestinian National Authority, at the start the Palestinian delegation's visit to Brussels on Monday (January 22).
"The moment that the US is no longer accepted as an honest broker by the Palestinians, then it is an opportunity for the EU to jump in to fill the gap and to play that role," he said.
But Israeli leader Benjamin Netanyahu has already nixed that idea. "There is no alternative for American leadership in the diplomatic process," he warned his counterpart Mahmoud Abbas, during a speech in Jerusalem on Sunday evening (January 21). "Whoever is not ready to talk with the Americans about peace does not want peace," he added, talking to an audience that included US Vice President Mike Pence.
"Such a statement does not mean anything to us, we are not taking instructions from anyone, not from Netanyahu," al-Malki said in response. "We look at the situation from our own perspective. He has rejected others as brokers in the peace process, now we are rejecting the US as the only broker to the peace process".
From Jimmy Carter to Bill Clinton, the US has historically been a neutral mediator in Mid East peace talks. But that appears to be changing
As well as possible EU involvement, Russia is also throwing its hat in the ring. Netanyahu and Abbas are scheduled to meet next month in Moscow.