EU, India strengthen ties in security, trade
Comments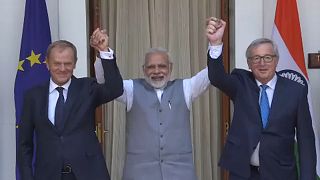 Honoring Mahatma Gandhi, the father of modern India, and dealing with Narendra Modi, the country's current Prime Minister.
At their 14th summit in New Delhi, the European Union and India agreed to strengthen ties in key areas of security and, especially, trade.
The summit last year failed to make any headway on the resumption of long-stalled free trade talks.
But those days are over, said EU Council President Donald Tusk.
"I am happy that today we have agreed to further develop the political dimension of our relationship; that we have agreed to develop our dynamic trade and invetsment relations and that we have agreed to step up cooperation on global and regional issues."
India is the world's fastest growing economy.
Over the past 16 years, European annual exports to India grew threefold, according to data provided by the Bruegel think tank in Brussels.
These figures exclude Britain who saw its exports to India barely changed over the same period.
That's why British Prime Minister Theresa May has India on top of her wish list, when it comes to forging a new global role for London, once the UK leaves the European Union.
May wants Britain to prosper by trading farther afield, and India seems to be an ideal partner.
A common language, shared cultural and historic ties, plus the influence of the Indian diaspora in Britain, bode well for closer ties.
Yet, one of India's priorities is avoiding complications with the European Union.