Reliving the pain 'every single day' - Brussels attacks one year on
Comments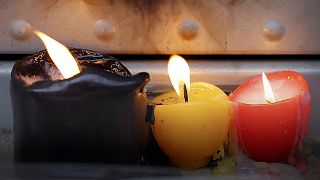 One year after the Brussels terror attacks, which killed more than 30 people, those affected have been recalling to Euronews the horrors of that day and how it has changed their lives forever.
A 'war zone'
"It was very chaotic, it was a like war zone. I remember the type of people. You had people who were very quiet, you had other people who were panicking. There was a lot of stuff happening at very short notice. And I remember that for myself, my first reaction is 'who can I help?'" said Jef Verzele, who was at Brussels airport, when two suicide bombers struck.
Moments before the first explosion, the Belgian brewery owner had stepped out of the check-in queue in the departures hall to make a phone call.
The person who had been in front of Jef was killed, and another was seriously injured. The force of the blast threw him into the air, but he otherwise escaped unhurt.
"I think about it daily almost. I'm daily under the influence of what happened that day. It has completely changed my life. In the middle of the night, I wake up thinking about it," said Jef.
"Now because it's one year, there is a lot of attention, a lot of media attention to that and it is something that I think I will carry for the rest of my life. "
The boyfriend who never arrived
Belgian Bart Migom, 21, was on his way to America to see his girlfriend Emily Eisenman when he was killed at the airport. It took three days for DNA tests to confirm that he had died.
"We had these plans to be married and to live together. We'd always be talking about the future," Emily told Euronews, speaking from her home in Athens, Georgia.
"I see pictures of me and him and I'm like, I don't even know who that was, that girl, because I'm not that girl anymore because he was taken from me."
Emily says she's drawing on her Christian faith, as she tries to come to terms with what has happened.
"My life was a chandelier and it crashed into a million pieces and I'm having to pick it up again and it's almost impossible," she told Euronews.
"I'm re-living the pain every single day. Sometimes I just can't believe it's been a year. I feel like it's a lifetime I haven't had Bart with me."
Euronews' Damon Embling reported from Maelbeek metro station in Brussels: "In all, 32 people were killed and more than 300 injured in the terror attacks here at Maelbeek metro station and at the airport.
"What happened that day a year ago, is clearly still very raw for many. And, for some, it's being made all the more difficult by continuing battles over insurance and compensation claims."