MEPs set to vote for new parliament chief
Comments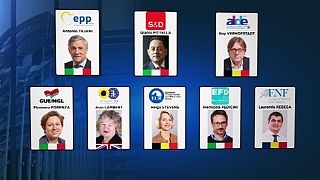 MEPs will vote tomorrow on who will replaced Germany's Martin Schulz as the head of the European Parliament.
He has been the president since January 2012, but is set to return to domestic politics back home.
The two favourites are Antonio Tayani of the centre right EPP and Gianni Pittella of the centre-left Social Democrats.
Both say the days of a grand coalition between the two parties are over.
A 2014 deal initially envisaged a centre-right candidate taking over from Schulz.
Observers say this leaves the race wide open, and smaller political groupings have a key role to play.
Those groups include the European Conservatives and Reformists, led by British Tories.
As well as UKIP's Europe of Freedom and Direct Democracy grouping.
The position of the European Parliament president is largely ceremonial.
But it remains politically significant as its holder can represent MEPs on the international stage.