NATO chief seeks Trump's backing for alliance
Comments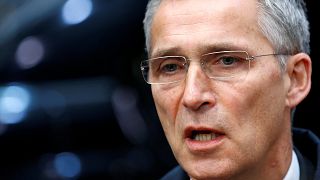 A strong NATO is in the interests of both Europe and the United States, the head of the alliance said on Tuesday, following Donald Trump's election victory.
The US President-elect cast doubt throughout the election campaign that he would stand by NATO's collective defence pact.
NATO chief Jens Stoltenberg told reporters in Brussels that it was in the mutual interest of both sides to stick by those commitments, faced with a resurgent Russia.
"A strong NATO is important for Europe, but is also important for the United States. (President-elect Trump) also pointed out the importance of increased defence spending….that Europeans are stepping up their efforts to invest more in defence. and I absolutely agree with him. That has been the message from American leaders, US leaders, for many years and the good thing is that we now see that Europeans are actually investing more in defence," he said.
The United States accounts for the lion's share of NATO spending: more than 70 percent of the total.
NATO countries agreed in 2014 to spend 2 percent of their GDP on defence, but only five of the 28 actually hit this target: the US, Britain, Greece, Estonia and Poland.
US President Barack Obama also sought to reassure Europeans that Trump would stand by NATO, despite his campaign promises.
On his tour of Europe, which began on Tuesday in Greece, Obama stressed that NATO "is something that provides significant continuity even as we see a transition of government in the United States."