NATO worried about Russia's "unpredictability"
Comments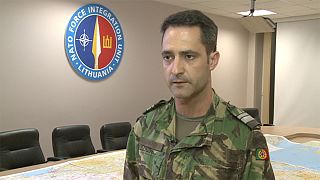 Ahead of the NATO summit, Euronews reporter Hans von der Brelie met NATO officers based in the Baltic States. In the Lithuanian capital Vilnius, he spoke with Angelo Miguel Simões, working at the NATO Force Integration Unit of Lithuania.
Following reported air space violations by Russian jets and snap exercises by Russian soldiers, NATO responded by opening small headquarters in Estonia, Latvia, Lithuania, Poland, Bulgaria and Romania – staffed each with some 40 experts in military logistics and transport.
"NATO could – if asked by Lithuania – deploy 5,000 troops in a very short time frame, from 48 to 72 hours", Simões told us, "followed by a much bigger force, if needed."
In 2014, NATO aircraft assigned to the Baltic Air Policing Mission conducted over 150 interceptions of Russian military aircraft (about four times as many as in 2013). Based on open-source intelligence, there are currently an estimated 20,000 Russian troops in Kaliningrad, a Russian exclave sandwiched between Poland to the south and Lithuania to the north and east. There are an estimated 100,000 Russian troops within 250 kilometers of the Baltic borders.