Transport companies hold protest in Brussels against French law
Comments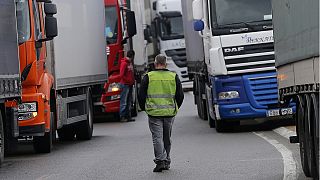 A protest has been held by central European road transport companies in Brussels against a French law they say will result in unbearable extra costs when operating on French soil.
From July 1, under the so-called Macron law, foreign-based drivers must receive the French minimum wage and foreign operators must have a representative in France.
Hungarian Dávid Bobál, an organiser of the protest, told Euronews: "If Germany and France impose rules on how the drivers must be paid, it won't result in a rise in the pay of these drivers.
"But the extra burden will put the companies in an impossible situation. With this they are trying to push them out of the market."
A similar law in Germany is already being challenged.
The protesters are calling on the European Commission to take action against Paris, slamming its new law as protectionism that puts thousands of jobs at risk.
France maintains the law, which has many different elements affecting different parts of the transport sector, is a necessary reform for modern times.
The protesters also denounce recent changes in the EU Posted Workers Directive, which they say makes it more difficult to send an employee abroad to work.