Spain hits out at Turkey migration 'deal'
Comments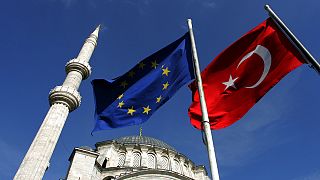 Spain hit out on Monday at a German-brokered migration deal with Turkey that will be debated by EU leaders later this week.
Chancellor Angela Merkel hammered out the outlines of an accord last week that would see Turkey take back refugees and migrants in return for cash and eased visa restrictions.
But rights groups and the United Nations have raised concerns that the agreement – if implemented – could breach EU and international human rights law.
"Spain condemns concretely the possibility of collective expulsions. The fact is that everybody who reaches European soil has the right to individual treatment," José García-Margallo y Marfil, the Spanish foreign affairs minister, told reporters in Brussels.
"What does that mean? It means to submit an asylum request. Then this asylum request is examined. And if this asylum request is refused, they have a right to appeal," he said. "In which case the return is suspended."
Zeid Ra'ad Al Hussein, the UN High Commissioner for Human Rights, is also in the Belgian capital for talks with EU officials.
He urged the European Union to reconsider the tentative agreement struck with Ankara.
"I hope every consideration is given to the independent assessment of the fact that we certainly do not want to see blanket returns," Al Hussein said. "And that these potential inconsistencies between EU law and policy are basically wrung out of the agreement, and that we have something fully in line with EU and international human rights law."
EU leaders meet on Thursday and Friday to try and finalise the deal. But it faces many hurdles, including stiff opposition from Cyprus.
Nicosia has long opposed closer ties between the EU and Turkey, owing to Ankara's refusal to recognise the Greek Cypriot government.