Veterans recall events of D-Day on Normandy beaches 70 years ago
Comments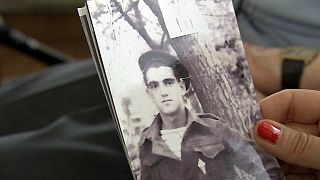 In the early morning of the of June 6, 1944, the first wave of allied forces landed on the beaches of Normandy. Operation Overlord was underway.
Seventy years after the invasion to liberate France, world leaders will gather in northern France to commemorate D-Day.
It is also a very personal time for those who fought and saw their comrades and friends die in the fierce fighting. British and American veterans remember their part in the invasion, how it affected them and if the sacrifice was worth it.
"I think it was. Otherwise we're betraying those chaps that lie buried over in Normandy now. And we can't do that. You can't do that. They'd have given their lives for nothing. They were the heroes of that war," reflected Eddie Wallace, a British Veteran who landed on Juno Beach.