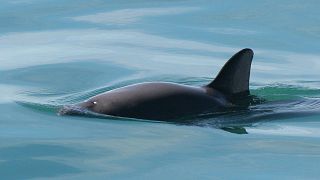 -
Copyright

Paula Olson, NOAA / via wikimedia commons
The world's smallest porpoise is on the edge of extinction - but an environmental group has successfully reduced fishing in the protected areas it calls home.
The tiny vaquita is the ocean's rarest marine mammal.
The creatures - which never grow to more than 150cm in length - number between six and 20 in the wild, down from 200 in 2012.
The protected species often become entangled and die in fishing nets cast to catch shrimp, finfish or totoaba.
But a year of enforcement efforts have significantly reduced fishing in their habitat, the Mexican sea of Cortez.
So far, it is unclear whether the efforts have increased vaquita population numbers.
"The result we all hope for is the day we can count more vaquitas," says Alejandro Olivera, Mexico representative at the Center for Biological Diversity.
How are vaquitas being protected?
Vaquitas belong to the cetacean family of dolphins and whales. They live in the Pacific gulf that separates the Baja California peninsula from the mainland.
Sea Shepherd, a non-governmental organisation, partnered with official bodies and Mexico's Navy last year to boost 'Operation Miracle'. The project aims to protect the tiny mammals by sharing information about illegal fishing in the waters where they live, known as a Zero Tolerance Area.
A year later, the group said it was able to reduce the number of hours fishing boats operated in the area by over 70 per cent, ensuring fewer nets are cast.
Mexico is under international pressure to fix the problem.
The Convention on International Trade in Endangered Species of Wild Fauna and Flora (CITES) - the world's leading body on the issue - has threatened Mexico with trade restrictions if it does not present a plan to address extinction threats to the species by the end of February.
Pritam Singh, chief executive at Sea Shepherd, told Reuters the group's approach has become more effective as they work to prevent nets from entering the water, or ensure they are removed within just a "few minutes."
Mexico's Navy confirmed there was less fishing in the area in recent months, and this week Sea Shepherd sent a new boat to ramp up enforcement.
Rear Admiral Jose Carlos Tinoco Castrejon added that assistance from the fishing sector has been key: "They have collaborated with us in respecting the actions for the benefit of the fishing community," he said.