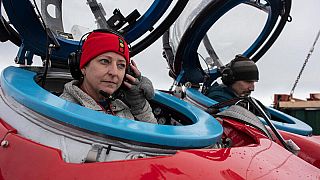 -
Copyright

Marizilda Cruppe/ Greenpeace
In February 2022, Greenpeace conducted the most southerly research submarine dive ever, in the Antarctic. There, they explored the Antarctic seabed, never before seen by humans.
The expedition took place at 65 degrees south (for context, Paris is 48.9 degrees south) and was intended to identify vulnerable ecosystems in the area. This work makes up part of Greenpeace's campaign to protect at least 30 per cent of the global oceans by 2030.
The results of their research are both incredible and shocking. They plan to use these findings to campaign for protected status for these waters.
What did Greenpeace researchers find on the Antarctic seabed?
"Most people are surprised to learn that there is so much life under the waters around Antarctica," says Dr Susanne Lockhart, lead scientist of the expedition and marine biologist at the California Academy of Sciences.
Accompanied by Greenpeace submarine pilot, John Hocevar, Dr Lockhart and the team witnessed an "incredible abundance of life, including corals and other vulnerable species" on the ocean floor.
According to John, the slopes, canyons and walls of the ocean floor were covered with brightly-coloured corals, sponges, feather stars and countless other marine animals.
However, the team were only able to witness these never-before-seen ecosystems due to the dramatic ice melt in the Weddell Sea.
It would usually be completely covered by ice, and therefore protected and inaccessible. In many of these now-uncovered areas, the depths of the ocean have never seen sunlight before.
"There is less ice here right now than at any other time in recorded history," explains John Hocevar, Head of Oceans at Greenpeace USA.
"Since the last record was broken in 2017, an area of sea ice roughly the size of Switzerland has disappeared."
Is it difficult to conduct submarine dives in the Antarctic?
The idea for this expedition took a while to come to fruition due the pandemic and various team members contracting COVID.
But they knew they had to press on as the research would help the ultimate goal of achieving protected area status.
According to submarine pilot John, it's hard to successfully achieve multiple consecutive research dives in any environment. Antarctica does not make it any easier.
The team expected that at least a third of their submarine dives would have to be cancelled due to weather or equipment problems.
In fact they were able to dive every day and completed 12 research missions over 10 days in the Antarctic Ocean before travelling into the Weddell Sea.
How can we protect Antarctic waters?
"The ocean around Antarctica is owned by no one. It belongs to us all," says Dr Lockhart.
"It is everybody's responsibility to do their part to make sure this pristine and beautiful, rugged environment and all the life that lives here is protected."
Though proposed nearly a decade ago, Greenpeace is still fighting to have the Weddell Sea declared a Marine Protected Area (MPA). Currently just 5 per cent of Antarctic waters are protected.
There's already been some great progress in the time since the expedition. Due to the team's discoveries, seven of the sites have been designated as vulnerable marine ecosystems, protecting them from fishing.
There is more hope on the horizon too.
The next, and potentially final round of Global Ocean Treaty negotiations will take place from 20 February to 3 March in New York. A Global Ocean Treaty will be a vital step to creating larger ocean sanctuaries free from human activity across international waters.
"Sanctuaries are the best tool that we have to rebuild depleted populations, to protect biodiversity and to give our ocean's a fighting chance," says John Hocevar.
Watch the video above to see incredible footage of Antarctica's never-before-seen ocean floor.