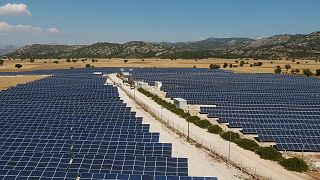 -
Copyright

Icons Innovation Strategies
A large solar power plant has been built in Dağbeli, on the outskirts of Antalya, Turkey, to provide free energy to the local farmers.
The whole region is a crucial hub for fruit and vegetable production both for the domestic and export markets. It accounts for about one fifth of Turkish fruit and vegetable exports, and over 30 per cent of the country's greenhouse areas.
Some 60,000 people will benefit from the support scheme as it gives farmers the means to run irrigation systems. Local growers say they once refrained from irrigating their crops properly because of the high energy prices. Now, thanks to this cost-saving solar power plant, their irrigation and crop production has significantly increased.
Why do farmers need irrigation systems?
The 5 megawatt solar power-plant was built on a 100,000-metre-squared site in Dağbeli, less than one hour's drive from Antalya, to meet part of the farming sector's energy demand.
Surrounded by mountains and clear waters, Antalya is the Turkish tourist capital on the Mediterranean Sea and enjoys a climate favourable to agriculture.
As the climate crisis continues - with rising temperatures and reduced rainfall - crop production requires intervention to remain stable.
"Thanks to the municipal solar power plant we can irrigate almost for free," says local farmer Mehmet Mercan.
"We grow corn and clover for animals here, and we also have olive trees. Our production has increased since we don't fear irrigating anymore."
Following its success, this solution will be soon replicated elsewhere. The construction of a similar solar power plant, aimed at supporting local agriculture, will begin next year in the east of the city.
How is solar power helping cities in Turkey?
Developed within the EU project MAtchUP, the solution is part of a broader effort by Antalya's local authorities to boost renewable energy and electric mobility.
A solar park has also been installed on the rooftop of Antalya's city hall, to meet part of its energy needs. It's the first of its kind on a public building and it comes equipped with a large storage system.
"This solar power plant can generate 260 kWp of power and has a 250 kWh storage capacity," explains Ceren Uçar, architect at the Antalya Metropolitan Municipality.
"Thanks to this environmentally friendly solution, we reduce carbon emissions and make energy savings."
The 25,000-metre-squared city hall building makes significant savings thanks to a smart air-conditioning and a LED lighting system. In the underground car park, two charging stations have been installed to charge the Municipality's e-cars and 30 e-scooters, available for its employees.
In order to continue to reduce carbon emissions, the city is also electrifying its bus network and has installed 'intelligent intersections' - traffic lights which adapt the duration of the red lights to the amount of traffic and monitor the number and pollution levels of vehicles on the road.
Watch the video above to learn more.