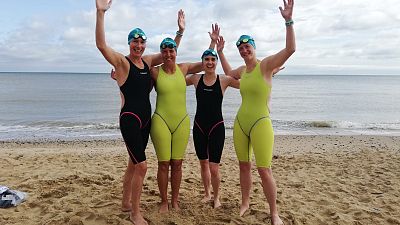 -
Four British women have successfully completed a medley relay across the English Channel, raising more than €2,000 for marine charity Surfers Against Sewage.
Their race, at the end of August, makes them the first-ever all-female team to swim a medley relay across the Channel.
Melanie Holland, Claire Thorn, Lucy Lloyd-Roach, and Sarah Hempenstall are known as Big Rick's Chicks, part of British swimming club Big Rick's Swim Team.
To qualify as a medley relay, they each had to swim a different stroke. They swam in 1-hour chunks and rested on a support boat in between swims.
The 34km swim took them 12 hours and 17 minutes, arriving in France just before noon on 1st of September.
Every weekday at 15.30 CET, Euronews Living brings you a cutting edge, environmental story from somewhere around the world. Download the Euronews app to get an alert for this and other breaking news. It's available on Apple and Android devices.