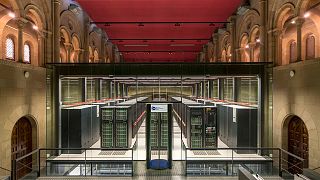 Dan Brown's Robert Langdon stories, such as Angels & Demons and The Da Vinci Code, seem to come to life in this 19th-century church in Barcelona. As a matter of fact, Chapel Torre Girona is home to one of the most powerful supercomputers in Europe, so no wonder it has made it to the pages of another of Brown's thrillers, Origin. He introduced it to readers who can now visit the church for a glimpse of the humming server banks, closed off in a glass cube inside the chapel walls.
Once named the most beautiful data centre in the world, the MareNostrum 4 occupies almost half of a basketball court as it processes vast quantities of data required by Europe's scientists. How proteins react to new cancer drugs, how to map the universe with information from the European Space Agency's Gaia spacecraft, how the Big Bang originated, climate change, energy security, fighting disease, air quality - these are just a few examples of MN4's key tasks.
According to its developers, despite being ten times faster than its predecessor, MareNostrum 4 uses only 30 percent more energy a year, making it one of the most energy-efficient supercomputers in the world.
Click on the video above to learn more about the MareNostrum 4 supercomputer.