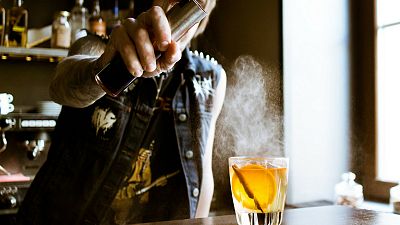 While Scotch whisky is currently enjoying huge popularity across a wide range of audiences, the landscape hasn't always been this way. Whisky is risky - the product has to sit in casks for a minimum of three years and a day before it can even be called Scotch, so forward planning is the cornerstone of any distiller's business. Unfortunately, this, along with the peaks and troughs of whisky popularity, means that some distilleries aren't able to survive. These are the 'ghost distilleries', places where once was a thriving business, but now lie only a few unopened casks.
The whiskies from these ghost distilleries can be highly sought after, both for their unique flavour profiles and romantic provenance. Scotch giant Johnnie Walker has collected a number of 'irreplaceable casks', in order to preserve the legacy of distillers that had to concede their dream of producing their own whisky.
The brand's parent company, Diageo, has also decided to reopen two distilleries and guide them back to their former glory. Brora, a Highlands distillery, was cursed by its own success, when a second distillery was built alongside it to meet demand, just before the market crash of the late 1970s, and it finally ceased production in 1983. Islay distillery Port Ellen closed the same year, having run since 1825. However, both will have a new lease of life when they reopen in 2020, rediscovering the one-of-a-kind tastes of each.
Dr Jim Beveridge, who was awarded an OBE in June 2019 for his services to Scotch and master distiller at Johnnie Walker, has worked for the brand for almost four decades, having joined as a chemistry graduate straight out of University. His first job, as a flavour chemist, saw him slowly make the move over to the blending table with his understanding of the relationship of maturation between whisky and the casks it is stored in. His newest creation is Johnnie Walker Blue Label Ghost and Rare,a blend of some of the rarest whiskies from the Johnnie Walker Reserves used to create Johnnie Walker Blue Label, producing unique flavours that will never be created again. Living it sat down with Dr Beveridge to discuss ghost distilleries, one-off whiskies and why innovation is key to success in the industry.
What do you think attracts us to the idea of ghost distilleries?
There is something quite romantic about being able to savour the great whiskies from distilleries that closed long ago. For me, it's fascinating how whiskies from a small number of iconic, closed distilleries have a unique, inimitable character that lend something very special to the taste of Johnnie Walker Blue Label. Exploring the character of these wonderful whiskies was what we set out to do with Johnnie Walker Blue Label Ghost and Rare Brora.
Why do you think it's necessary to revive ghost distilleries? Is it a matter of legacy?
The rare whiskies that come from closed 'ghost' distilleries offer a fleeting opportunity to experience the often-unique Scotch they produced. They are so rare that not everyone gets the chance to experience their unique flavours. With such a growing interest in whisky, if we can revive a 'ghost' distillery then we can we can offer more people a chance to taste something of the spirit of these wonderful distilleries and their unique whiskies.
How often do you get to work with whiskies of this rarity?
Not often enough in my book! These whiskies are so rare that working with them only comes along occasionally.
You always have a mixture of feelings towards these very rare whiskies from 'ghost' distilleries. The great challenge of 'ghost' distilleries being that their supply is finite, yet, on the other hand they are there, and they need to be used.
Day-by-day we use all kinds of whisky from all over Scotland and of different ages - bringing out different characteristics to experiment with. We tweak, record and perfect each experiment until we discover something that can sit alongside our iconic portfolio of whiskies.
How big is your library of irreplaceable casks? It must be quite exciting to explore them all.
Not big at all. I mean, these whiskies are so precious that I always wish we had more of them to work with. The reality for something like Brora is that we only have a handful of casks. When we do work with these whiskies we feel very privileged.
Why have Brora and Port Ellen been chosen to be revitalised?
Fifteen or so years ago Diageo started bottling Port Ellen and Brora as special releases. They have become so popular that it became obvious the time was right to bring those two distilleries back to life in order to meet the number of people who can enjoy the Brora and Port Ellen whiskies.
Their reopening is part of Diageo's huge investment in Scotch whisky industry and tourism – it's exciting to see how that will transform the Scotch whisky visitor experiences across Scotland.
How unique is the Brora flavour profile, and how does it lend itself to Johnnie Walker Blue Label Ghost & Rare?
There only is one Brora – so its flavour is completely unique. Brora stocks are a mere drop in the ocean among the 10 million casks available to the Johnnie Walker blending team.
Any sample of Brora is deeply aged and from a distillery that produced only small amounts of whisky – that makes for a very special Scotch indeed. This lends something very special to Blue Label and brings a uniquely rich fruitiness and a subtle smokiness to Blue Label Ghost and Rare Brora.
What about the whiskies from Cambus and Pittyvaich? They're two other ghost distilleries that play a big part in this new expression. What are you looking to get out of those in terms of taste?
Pittyviach has unique flavours, in a completely different flavour style to Brora. It is a classic malt whisky, which has got spicy aromas, that is very important to the layers of flavour in Johnnie Walker Blue Label Ghost and Rare Brora.
Cambus is a grain whisky, again it has rich, deep vanilla flavours and sweet notes – so there is quite a contrast there, very rich in flavours.
Together these three presented the best flavour profile to blend with the other rare whiskies from existing distilleries to create a blend of great richness and elegance.
Is the era of ghost distilleries at an end? Is there still a risk of closures, or do you think the Scotch industry is in the strongest shape it's arguably ever been in?
I hope so. While I enjoy working with these 'ghost' whiskies I certainly don't want to wish any into existence – a distillery has to close for that to happen and I wouldn't want that to ever be the case but I accept that from time to time it happens.
The whisky industry in Scotland looks strong, so I'm hopeful that if this is the case, all the distilleries producing such wonderful Scotch in Scotland will continue to do so.
Should we be doing more to protect distilleries, or do you think with the re-emergence of Scotch on the wider market, people are finally appreciating the history and craftsmanship behind them?
Whisky enthusiasts have always been interested in the provenance and history of Scotch, they want to travel to the great distilleries of Scotland to touch and feel the distilleries where their favourite whiskies are made. It seems to me that more and more people want this experience and that can only be good news.
Johnnie Walker Blue Label Ghost & Rare is available at www.thewhiskyexchange.com at an RRP of £219
Words: David RS Taylor