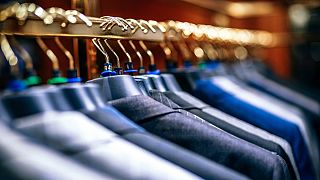 "Whether in a print or a single color, a shirt should be made of one fabric", "Don't button up your suit all the way", "If you're a fan of espadrilles, only wear those with stitched toes". These advice are not from us but from supermodel and Parisian style expert Inès de la Fressange. They come from her latest book "_The Parisian Field Guide to Men's Style_", recently released in English and written alongside Elle magazine fashion contributor, Sophie Gachet. The duo brings a set of advices taken from more than fifty carefully selected Parisian men of all ages, professions and style identities. A real cartography of men's style in the French capital, with each of them sharing favorite stores and worst fashion faux-pas. Apparently, white socks are a big winner in the latter category - and we could not agree more.
To the "Is it acceptable to wear leather pant?" question, Inès and Sophie answer "It all depends: do you hang out with Lenny Kravitz?". No comment. The mix of funny and practical advice - they give out the "Perfect Wardrobe of fifteen essentials" and it's very accurate - is a great combination. From secret addresses around the French capital to stylish hotels and good (non-vegetarian) restaurants, this handbook spans all areas of style including clothing, grooming, fooding and living well in true Parisian manners. We also love that the writers added a list of "Gift emergencies" for all situations. This book certainly is a great one for any guy in search of solid sartorial advice.
"_The Parisian Field Guide to Men's Style_" is published by Flammarion and availablehere.