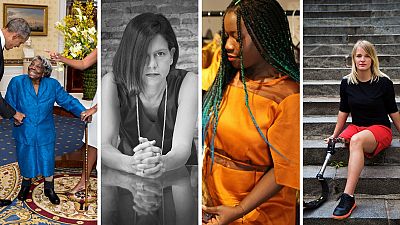 On the occasion of the International Women's day, we made a selection of the creative and unique women we met in the last months.
Romanian photographer Mihaela Noroc travelled around the world for years with a backpack and a camera to prove beauty can have many shapes and forms, and last year she published her album Atlas of Beauty. Living it witnessed her story as well as fashion designer Euphemia-Ann Sydney-Davies', who fled Sierra Leone to escape a brutal civil war and 20 years later she was invited to the Buckingham Palace.
Spanish fashion designer Pilar Torrecillas, showed her creativity when last year she presented the first virtual reality fashion show. When it comes to self-fulfilment, we think of Russian modern artist Alexandra Ivleva, who has made an impression with her interactive creations using a welder and her imagination.
Being old does not mean you should not celebrate: Virginia McLaurin famously danced with President Barack Obama at the White House at age 106 and she made the most of it yet again as her 109th birthday is coming up.