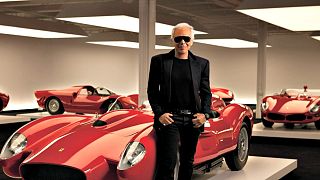 Ralph Lauren has opened his private garage in New York, to present his Fall 2017 Fashion Show, at New York Fashion Week.
The spectacular backdrop was the designer's vintage car collection, of more than 70 cars, estimated by Forbes to be worth at least $300 million.
"People always wanted to come and see the garage and I thought it was an interesting time to do something different, and I think mixing the cars and the art of the cars and fashion of the clothes is exciting. They are not meant to be matched together they are meant to be an extension of something you live with all your life "– said the designer.
Kendall Jenner and Bella Hadid walked the runway with race-inspired looks connecting the speed, style, and beauty of the designer's handcrafted vehicles. The collection included a 1955 Mercedes Gullwing and a 1938 Bugatti 57CSC Atlantic.
Ralph Lauren's passion for automobiles has a long history, 17 of the collection were shown in an exhibition in the Louvre in 2011.
The hand-selected guest lists of the Fall 2017 Fashion Show included Dianne Keaton, Jessica Chastain, Nina Dobrev, Katie Holmes, Kevin Love, Armie Hammer and other esteemed attendees.
For the first time, men wearing looks from Ralph Lauren's Purple Label collection joined women on a runway lined with the designer's cars.