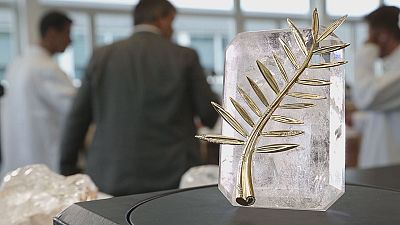 We're taking you to a place where few have had the chance to explore. It is in Geneva, Switzerland, that the Palme d'Or, one of the world's most coveted trophies, is designed and fabricated.
In the place where luxury and art meet, we reveal the secrets of how this mythical object is made.
Para el 70º aniversario de la Palma de Oro de Cannes la casa Chopard ha hecho esta edición especial con diamantes. Foto:AFP Fabrice COFFRINIpic.twitter.com/K4jPhTEgtb

— Rafael Muñoz

RTVE

(@munoz_rafa) April 27, 2017
The Maison Chopard has been producing this masterpiece for 20 years. We caught up with their Artistic Director Caroline Scheufele to find out more.
"It has become a love story and we have really, also grown our high-class jewellery with the involvement of Cannes," explained Caroline. "Within this manufacturing location, we have over 37 different crafts, from polishing to watch making, setting, to goldsmith, you find everything under one roof."
CANNES: Festival de Cannes 2017 Bande Annonce 70 Ans: Chaque année, au mois de mai, le… https://t.co/4uE10NDVj6pic.twitter.com/KzbsB4g9w6

— Alexandra Baskia (@frenchlifetv) April 19, 2017
We followed the process of making the Palme d'Or step by step. Artisans at the Geneva-based jewellers spend no less than 40 hours hand-crafting the trophy.
Wax heated to about 70 ° c is injected into a mould reproducing the exact shape of the palm and once it's cooled, the wax can be extracted.
The Palme is then assembled on a wax rod and a soldering iron helps get the "tree"-shape.
The tree is placed in a moulding pot. Next, it's coated in a heat-resistant refractory cement before being placed in an oven and heated to 760 °c.
In the oven, the coating hardens and the wax melts, leaving only the imprint of the palm behind. That is why the process is called "lost wax casting".
The mould is placed in a vacuum chamber and then comes the really eye-catching bit.
Just under 120 grams of 18-carat ethically-sourced gold from Colombia (certified as "Fairmined")is melted and poured into the cast.
After the casting, the burning hot cylinder is dipped in a bucket of cold water that dissolves the coating leaving behind a piping-hot Palme!
Next up is the cleaning and finishing touches. This is a work of extreme precision in which all the waste material or "slag" is eliminated.
With the final polishing done, an ultra-meticulous inspection is carried out.
Caroline Scheufele told euronews what makes this particular Palme d'or so special:
"This year actually, for the festival anniversary we have decide to make the Palme even more glamorous. So we added tiny little diamonds all together, 0.70 carats, there are just like little snowflakes, that have set themselves on the Palme. And it gives extra sparkle. So the one who get this one, gets something very special this year…diamonds are forever."
Pour le 70e anniversaire du festival de Cannes, la maison #Chopard a incrusté 167 #diamants sur la Palme d'or. pic.twitter.com/Ubzcbbdvpf

— diamoneo (@diamoneo) April 27, 2017
If you are wondering who the lucky winner of this unique Palme d'or will be then come to the 70th Cannes Film Festival from 17th to 28th May 2017.
Cannes festival 2017 is coming together: Uma Thurman named head of jury for sidebar "Un Certain Regard" competition https://t.co/ZNr5ts1Q09pic.twitter.com/qSU6W65iZb

— Catherine Nicholson (@ACatInParis) April 21, 2017