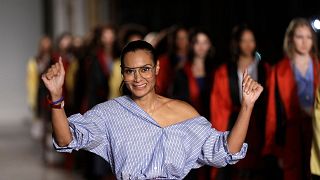 -
Copyright

AP Photo/Luca Bruno, File
Stella Jean, the only Black designer in Italy's prestigious fashion chamber 'Camera Italiana della Moda', has quit this year's Milan Fashion Week over what she has condemned as a lack of commitment to diversity and inclusion. 
We Are Made in Italy (WAMI), a collective of young designers of colour working in the country, walked out of the world-famous event with her, causing a stir in Italy's fashion world.
Talking to AP reporters on Wednesday, Jean – whose real name is Stella Novarino – said that Italy's fashion chamber has significantly cut back support to WAMI in the past three years, and that she was tired of the "continual fight" for recognition of designers of colour in Italy.
Fearing a backlash against other designers associated with her, Jean has also announced that she will go on a hunger strike.
"This admittedly extreme measure of mine stems from having heard several voices from the collective worried about 'soft' or 'hard' repercussions, including difficulty in securing funding and services from sponsors and partners, given the power wielded by you as president of the chamber in the industry," Jean wrote in a letter to Italian fashion chamber president Carlo Capasa.
The 44-year-old designer, born to an Italian father and a Haitian mother, has always made multiculturalism the heart of her practice and interpreted fashion as a channel for integration. While working within the Italian fashion establishment, she has used her position to highlight issues of racial injustice in Italy, though she said she has personally suffered the consequences of her advocacy.
WAMI – which was launched in 2020 by Jean, Michelle Ngonmo and Edward Buchanan – was expected to open Milan Fashion Week this month with a digital presentation. But co-founder Ngonmo said the chamber didn't help the group with the €20,000 needed to support the five designers involved with their work.
Capasa, on the other hand, said he was saddened by Jean's decision and claimed that the Milan Fashion Week's calendar is "full of diversity."
This year's Milan Fashion Week will be held between 21 and 27 February.