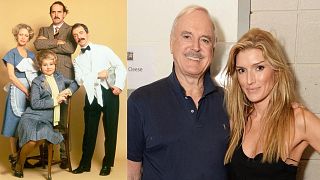 -
Copyright

BBC - Getty Images
Prepare the Waldorf salads, and whatever you do, don't mention the war…
Castle Rock Entertainment announced it has closed a deal to bring back the classic UK sitcom Fawlty Towers after 44 years, with John Cleese returning to write and star alongside his daughter Camilla Cleese.
The original show, written by Cleese (now 83) and Connie Booth, consisted of just 12 episodes and ran on BBC2 for two seasons in 1975 and 1979. It followed the highly-strung and snobbish Torquay hotelier Basil Fawlty (Cleese) and his sarcastic wife Sybil (Prunella Scales) as they tried to keep their hotel and marriage from crumbling.
It was an immediate hit, with audiences cracking up at difficult guests, hotel inspectors, a bumbling Spanish waiter Manuel (played by Andrew Sachs) who routinely mucks everything up, and Major Gowen (Ballard Berkeley) lomming around as a hotel regular.
Plot details for the reboot are scarce, but we already know that it will explore how the misanthropic Basil and a daughter he has just discovered will team up to run a boutique hotel.
Actor Rob Reiner (This Is Spinal Tap), his wife and actress Michele Reiner, director and producer Matthew George and Derrick Rossi will act as executive producers on the series.
"John Cleese is a comedy legend. Just the idea of working with him makes me laugh," has stated Reiner.
John Cleese said: "What I like about Matt is that, unlike many producers, he really 'gets' the creative process. When we first met, he offered an excellent first idea, and then Matt, my daughter Camilla, and I had one of the best creative sessions I can remember. By dessert we had an overall concept so good that, a few days later, it won the approval of Rob and Michele Reiner. Camilla and I look forward enormously to expanding it into a series."
In 2000, the BFI (British Film Institute) ranked the show #1 in their 100 Greatest British Television Programs list, and the show was named the greatest British sitcom of all time by a panel of comedy experts for Radio Times magazine in 2019.
The show was remade in the US three times – in 1979 as Chateau Snavely, in 1983 as Amanda's, and in 1999 as Payne – but none of them managed to replicate what made the original series so special.
Aside from Fawlty Towers, Cleese is best known as one of the original members of the Monty Python comedy troupe, who shook up British comedy with their surreal sketch show Monty Python's Flying Circus (which aired from 1969 to 1974), as well as their beloved comedy films Monty Python And The Holy Grail, Monty Python's Life Of Brian and Monty Python's The Meaning Of Life.
A recipe for disaster?
In 2009, Cleese said that there would never be another episode of the series.
"If I ever tried to do a Fawlty Towers-type sitcom again, everyone would say, 'Well, it's got its moments, but it's not as good as Fawlty Towers,' so there's not much point in doing that. You have to do different things," he told The Independent in 2018.
On cue, the news of the reboot drew mixed reactions on social media, with calls that the show shouldn't go ahead without the late Andrew Sachs, the retired Prunella Scales and the original co-creator and co-writer Connie Booth, who seems to have nothing to do with this new project. 
Many fear that this reboot will go down the same route as the US remakes...
"Given what he's like now, this is going to be full of awful 'anti-woke' shit isn't it. Fawlty Towers was funny because the right-wing Basil was a joke figure, an arsehole whose snobbery exposed his shortcomings. Bet Cleese tries to make him a hero this time," said one user. 
Indeed, Cleese has become a controversial figure, and many fear that the new sitcom is doomed to fail due to his views on modern culture. Last year, he signed up to become a presenter for right-wing TV channel GB News, claiming that "cancel culture" had prevented him from being on screen.
The revival does not yet have a release date. 
For the time being, here are a few clips to make you reminisce:
Will you be watching the reboot?