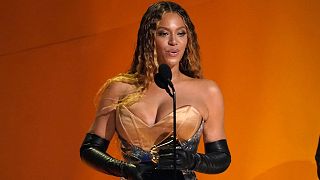 In news that should surprise no one... Beyoncé became the Grammy Awards most decorated artist Sunday night, taking home her 32nd honour and breaking a 26-year-old record. 
Reminding the world while she is, indeed, Queen Bey - a name conjures more than music - she stands alone on the prestigious music award throne after nabbing more gramophone trophies in Los Angeles. 
Her song "Cuff It", which became a viral TikTok dance over the summer, won best R&B song. She won two awards at the preshow ceremony. And her tribute to Black and queer dance music "Renaissance" won best dance album. 
Her four awards broke the record set by Hungarian-British conductor Georg Solti, who won 31 awards and died in 1997. 
"I'm trying not to be too emotional," the superstar said, as her husband Jay-Z stood and applauded her.
It was British heartthrob Harry Styles who won the most coveted album of the year prize for "Harry's House". 
He was full of emotion accepting the award and paid tribute to his fellow nominees. "I'm so inspired by every artist in this category," he said. "A lot of different times of my life, I've listened to everyone in these categories. It's so important to remember that there is no such thing as best."
The British singer-actor took home three awards Sunday. "It feels like validation that you're on the right path," he said speaking backstage. "When we get in the studio and begin the record, we just make the music we want to make. It feels really nice to feel like 'Oh, that's the right thing to do.'"
Straight off hard-launching her new beau on Instagram, queen of the people Lizzo won Record of the Year for "About Damn Time". She delivered a rousing speech that brought many in the audience, including Beyoncé, Taylor Swift and Adele, to their feet.
"Me and Adele were having a good time, rooting for our friends... This is so unexpected," Lizzo said, dedicating her award to Prince.
"I wanted to make the world a better place, so I had to be that change to make the world a better place. Now, I look around and see these songs are about loving your body and feeling comfortable in your skin and feeling good."
Veteran singer-songwriter Bonnie Raitt shrugged off big-name rivals like Adele, Taylor Swift and Beyoncé to win the song of the year award for "Just Like That" which explores organ donation.
It came off the back of two other Grammy wins - for best Americana performance and best American roots song.
Hip-hop don't stop
A who's who of hip-hop royalty took the stage for an epic, rousing 15-minute tribute to the genre's 50th anniversary. The performance included Grandmaster Flash doing part of his seminal hit "The Message," Run DMC, Chuck D and Flavor Flav along with Ice-T, Queen Latifah, Busta Rhymes and Nelly all taking the stage.
Kendrick Lamar won sixth career trophy for best rap performance for "The Heart Part 5" and also won best rap album for his studio offering, "Mr. Morale & The Big Steppers."
Viola Davis emerged from Sunday's show an EGOT - a term for those who have won an Emmy, Grammy, Oscar and Tony - after her win for best audio book, narration and storytelling recording.
And how could we not mention, Taylor Swift. Dressed in midnight blue, a nod to her latest album, she took home best music video for "All Too Well: The Short Film". A project she wrote, directed and starred in alongside Sadie Sink and Dylan O'Brien.
Full list of winners
— Album of the year: "Harry's House," Harry Styles
— Record of the year: "About Damn Time," Lizzo
— Song of the year (songwriter's award): "Just Like That," Bonnie Raitt.
— Best new artist: Samara Joy
— Best pop solo performance: "Easy on Me," Adele
— Best pop duo/group performance: "Unholy," Sam Smith and Kim Petras
— Best rap album: "Mr. Morale & the Big Steppers," Kendrick Lamar
— Best dance/electronic album: "Renaissance," Beyoncé
— Best R&B Song: "Cuff It," Beyoncé
— Best country album: "A Beautiful Time," Willie Nelson
— Best pop vocal album: "Harry's House," Harry Styles
— Best música urbana album: "Un Verano Sin Ti," Bad Bunny
— Best rock album: "Patient Number 9," Ozzy Osbourne
— Best rock performance: "Broken Horses," Brandi Carlile
— Best rock song: "Broken Horses," Brandi Carlile
— Best rap performance: "The Heart Part 5," Kendrick Lamar
— Best rap song: "The Heart Part 5," Kendrick Lamar
— Best melodic rap performance: "Wait For U," Future featuring Drake & Tems
— Best R&B album: "Black Radio III," Robert Glasper
— Best R&B performance: "Hrs & Hrs," Muni Long
— Best traditional R&B performance: "Plastic Off the Sofa," Beyoncé
— Best progressive R&B album: "Gemini Rights," Steve Lacy
— Best alternative music performance: "Chaise Longue," Wet Leg
— Best alternative music album: "Wet Leg," Wet Leg
— Best audio book, narration and storytelling recording: "Finding Me," Viola Davis
— Best traditional pop vocal album: "Higher," Michael Bublé
— Best solo country solo performance: "Live Forever," Willie Nelson
— Best country duo/group performance: "Never Wanted To Be That Girl," Carly Pearce and Ashley McBryde
— Best country album: "'Til You Can't," Cody Johnson
— Best music video: "All Too Well: The Short Film," Taylor Swift
— Producer of the year, non-classical: Jack Antonoff
— Best comedy album: "The Closer," Dave Chappelle
— Best musical theater album: "Into The Woods (2022 Broadway Cast Recording)"
— Best music film: "Jazz Fest: A New Orleans Story"
— Best song written for visual media: "We Don't Talk About Bruno" from "Encanto," Lin-Manuel Miranda
— Best jazz vocal album: Samara Joy
— Best Americana album: "In These Silent Days," Brandi Carlile
— Best Americana performance: "Made Up Mind," Bonnie Raitt
— Best American roots song: "Just Like That," Bonnie Raitt
— Best dance/electronic recording: "Break My Soul," Beyoncé
— Best metal performance: "Degradation Rules," Ozzy Osbourne featuring Tony Iommi
— Best engineered, non-classical album: "Harry's House," Harry Styles
— Best compilation soundtrack for visual media: "Encanto"
— Best score soundtrack for visual media: "Encanto," Germaine Franco