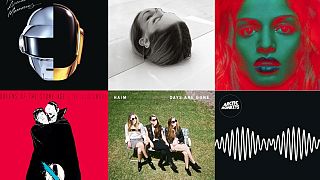 -
Copyright

Columbia, Matador, 4AD, Polydor, Interscope, Domino
Are all albums celebrating a major milestone anniversary this year absolute gems?
In this five-part series, Euronews Culture wrestles with this question and takes a trip down memory lane to explore the landmark albums celebrating their big anniversaries in 2023. We then pick out one standout album that you should (re)discover as the best that year had to offer.
We start with those 2013 releases turning 10 this year. Prepare to feel old.
What do you remember of 2013?
The year the Harlem Shake blew up, Miley Cyrus twerked on stage with a foam finger, Gravity and The Hunger Games: Catching Fire were all the rage on the big screen, Emma Stone and Andrew Garfield were still the hottest couple around, Prince William and Kate welcomed their first (and future king), and the word "selfie" was Oxford Dictionary's Word of the Year. What a time to be alive.
It was also an exceptional year for music, with some stellar releases from countless artists who gave the early 2010s a reputation for being an indie rock-pop haven.
Arctic Monkeys released what was then their magnum opus, 'AM'. Before their more recent releases which dabble with lounge pop and jazz, 'AM' hit an indie rock sweet spot that satisfied the band's early day fans and drew in the newbies with radio-friendly singles like 'Do I Wanna Know?' and 'Why'd You Only Call Me When You're High?'
Hot on the monkeys' tail were Foals with the release of their third album 'Holy Fire' and The 1975's self-titled debut. Queens of the Stone Age blew them both out of the water and reminded everyone what a powerhouse rock outfit sounded like with '…Like Clockwork'. But the main news that year was the return of David Bowie with 'The Next Day', his first in a decade. It was a moody and masterful return to form - although his previous record, 2003's 'Reality', gets an unfair go of it.
On the more indie side of things, folk trio Daughter released their gorgeous debut album 'If You Leave', featuring brilliantly catchy and heartbreaking lyrics and a banner single 'Youth', while The National gifted us the successor to 'High Violet', 'Trouble Will Find Me'. To this day, it remains an exquisite and wonderfully self-aware testimony to the band's capacity to envelop their listeners in some of the most swoon-worthy melodies and subtle lyrics you're likely to hear on the radio.
2013 also saw the rap scene get its first taste of supergroup Run The Jewels, composed of rapper Killer Mike and rapper-producer El-P. Their critically acclaimed self-titled debut album was released as a free download and this unexpected pairing boasted a chemistry and thunderous energy that has seen them go from strength to strength over the years through their subsequent 3 albums.
Oh, and Kayne West was still releasing good music ('Yeezus') instead of half-baked vanity projects marred by controversy and unhinged racist rants.
Simpler times.
On the pop front, Lady Gaga dropped 'Artpop', MIA's 'Matangi' was an underrated masterstroke from the British artist, Justin Timberlake's 'The 20/20 Experience' was the biggest selling album of the year and both Robin Thicke and Macklemore & Ryan Lewis decided to dent the collective sanity with the respective ubiquitous overplay of the problematic 'Blurred Lines' and thick-as-fudge 'Thrift Shop'. We can forgive, but we cannot forget.
On the sunnier side, Beyoncé surprise-released 'Beyoncé' and became iTunes' fastest-selling record on the platform's history (Can you believe 'Drunk in Love' is 10 this year?), and both Sky Ferreira and Lorde made their debuts. Ferreira's 'Night Time, My Time' was a soft synth-pop gem that toyed with 80s influences and 90s grunge vibes, while the Kiwi wunderkind's 'Pure Heroine' (released when she was just 16) catapulted her to international acclaim, a charge led by the sound of lead single 'Royals'.
And then there was 'Random Access Memories' by Daft Punk. Little did we know at the time it would be their final album before disbanding in 2021, and there wasn't a summer night in 2013 that wasn't soundtracked to 'Get Lucky'. Even if the overplay got singularly grating after a while, the 80s synth-disco indebted record had infectious funk and groove to spare, and remains a sonic delight.
However, if there's one record turning 10 that deserves to be championed the most... 
HAIM's debut album, 'Days Are Gone'.
HAIM have been going strong since their 2013 debut: 2017's 'Something To Tell You' was a serviceable follow-up and 2020's fantastic 'Women in Music Pt. III' was an expansive exploration of the Californian group's sound, one which ditched some of the summer rock tunes to delve into moodier soundscapes. But their absolutely flawless first album remains one for the ages.
The three sisters – Danielle, Alana and Este – delivered a charmingly nostalgic collection of 70s-indebted pop mixed with funky rock and 90's R&B influences that not only reflected their unparalleled knack for crafting catchy pop hooks but also skillfully introduced listeners to their infectious energy.
From the shoulder-shimmying 'Forever' and the perfect pop of 'Don't Save Me' to the sassy 'The Wire', the 80s-sounding 'If I Could Change Your Mind' and the memorable album closer 'Running If You Call My Name', everything here sounds like a hit. 
One highlight amongst the 11 tracks is 'Let Me Go', a heavier track with one hell of an attitude. Its anthemic feel is only galvanized by the propulsive percussion and those wonderful three-part harmonies, and it's a testament to what smart, idiosyncratic pop sounds like.
The whole album comes off as if Stevie Nicks and Joni Mitchell had a bluesy-pop-rock lovechild, and the band manages to toe the line between retro and fresh. More than anything, it's so much fun to listen to. Try putting on 'Days Are Gone' without bouncing around or strutting without a care in the world. Good luck.
You'd have been hard pressed to find another 2013 album so infectiously full of life… And ten years later, the same applies.
Join us next week for Part 2 in this series - the best albums turning 20 in 2023.