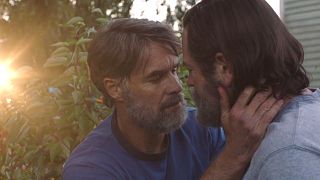 -
Copyright

Credit: HBO/Warner Media
WARNING: This article contains spoilers for Episode 3 of HBO's The Last of Us series. So if you haven't watched it already, you need to seriously reconsider your life priorities.
'The Last of Us' is one of my favourite video games of all time.
It's a game that shines in every aspect, from its heart-wrenching story and performances to its immersive gameplay and stunning graphics.
So when I heard that they were adapting it into a TV series I was nervous to say the least…
We've seen it attempted with countless other games before, and usually they end up being a complete mess. Take the atrocious movie adaptations of Max Payne, Assassin's Creed or Hitman, for example.
But HBO's take on Naughty Dog's groundbreaking post-apocalyptic 'The Last of Us' has so far been nothing short of brilliant. And especially its most recent episode, Long, Long Time (Episode 3), which for my money is one of the best episodes of TV I think I've ever watched.
Like many, by the end of it I was broken. And I don't think I'll recover for quite some time.
A post-apocalptic love story
While the first two episodes set the overall tone of the series and introduced viewers to the two main protagonists, Joel (Pedro Pascal) and Ellie (Bella Ramsey), the third boldly steps away from this journey and instead explores the intimate and heartbreaking love story between Bill (Nick Offerman) and Frank (Murray Bartlett).
Casting two inherently comical and goofy stars from Parks and Recreation and The White Lotus was a surprising move from the show's creators, but one that paid off magnificently.
Their on-screen chemistry is wonderful and they play their roles with enormous sensitivity and nuance. 
The episode jumps back in time to the early stages of the cordyceps outbreak where we meet Bill, a gruff survivalist, who manages to dodge the evacuation of his town by hiding in a surveillance bunker that he built under his home prior to the outbreak.
With everyone in the area now gone, Bill emerges from his hideout, and for lack of a better phrase, begins truly living his best life. He raids his local off-license, chops down trees, steals his neighbour's boat and sets up a whole bunch of devious booby traps to obliterate any nearby wandering infected. Kevin McCallister would be proud. 
Bill is fully content with his new life of freedom - but it's clear he lacks a sense of purpose.
Four years later. Bill meets Frank, who has fallen into one of his traps. Little does Bill know, he'll soon be falling for Frank. I'm not sorry you had to read that last sentence.  
After Bill reluctantly invites the helpless Frank into his home for an excellently prepared rabbit lunch, paired with a fine Beaujolais, the two men share an intimate moment around a piano, as they take turns singing Linda Ronstadt's 'Long Long Time' (which is likely to receive a similar Kate Bush / Stranger Things 'Running Up That Hill' moment). Bill then reveals to Frank that he's gay, to which he responds "I know," and the two kiss.
After this encounter, Frank stays for good. The pair form a life together within the compound. They cook, make art, invite guests round for dinner (Joel and Tess), giggle in delight over strawberries, and begin to find love and meaning in the bleak post-apocalyptic world they find themselves in. 
But similar to the heart wrenching opening sequence of Pixar's Up, Frank eventually becomes ill and decides he's going to take his own life. 
After spending one final day together - all while Max Richter's incredibly moving piece 'On the Nature of Daylight' accompanies the sequence - Bill reveals to Frank that he too is going to take his own life and that they will die in each other's arms.  
"I'm satisfied and you were my purpose", Bills tells a teary-eyed Frank, who responds by saying, "I do not support this... But from an objective point of view, it's incredibly romantic". 
Why I love this episode
While the first two episodes of the show stayed pretty close to the original game's story and characters, episode three veers drastically from it. And this was something which at first I thought would make me hate the series. 
But is the key to creating a great video game adaptation staying 100% faithful to the original material? 
Cleary not. 
Here the show takes the character of Bill, who in the game has very little back story and is merely just a side character to help progress Joel and Ellie's journey, and transforms him into a complex being with a riveting narrative of his own. By delving deeper into his relationship with Frank, which is only briefly mentioned in a hidden suicide note in the game, the series expands the world of The Last of Us. And this actually improves the original game.  
Thanks to the series, now Bill and Frank have so much more backstory in the game, and it makes me want to play it all over again. 
It was also an incredibly brave decision from the creators of the show to commit a whole episode to these side characters, who by the end of the episode are no longer alive and who we as an audience will likely never see again.
But not only does the episode tell an incredibly heartfelt personal story of hope and love; it also provides context of what's been lost to the infection, perfectly switches up the tone of the first two episodes, and expands the depth of the show's world. Most of all, it helps us understand what's really at stake, showing how humanity can be salvaged from a civilisation's collapse. 
In short, if the first two episodes of The Last of Us build the world of the show, then Long, Long Time offers viewers a reason to truly care.
As if that wasn't enough, the episode excellently sets up the rest of Joel and Ellie's journey on a thematical level. 
"I was wrong, because there was one person worth saving. That's what I did. I saved him. Then I protected him," reads the suicide note left by Bill, which Ellie reads out loud to Joel towards the end of the episode.
It's clear that Joel is on a similar path to Bill: one of redemption and healing. 
Ellie now gives him "something to fight for".
The first three episodes of HBO's The Last of Us are currently streaming.